Spectra Art Space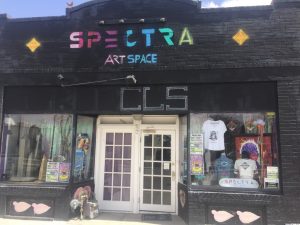 In the spirit of journalistic integrity, I have to admit I have a slightly biased opinion about this week's location. I already knew how rad one of the owners was prior to writing this. But don't let my conflict of interest dissuade you from checking out Spectra Art Space on South Broadway, it deserves all the praise I can bestow. I stopped in for the first time a few days ago and saw my friend Sadie Young, the mastermind behind the operation. Spectra opened just last year at 1836 S Broadway and its already well established.
The entrance to the gallery opens up into a large main room. There are a few glass cases for glass pieces, small sculptures, and other art that doesn't hang easily on walls. As for the walls, they're covered with paintings from dozens and dozens of artists. Hundreds of different artists from all kinds of disciplines work with Spectra to keep the selection fresh. In the corner is a stage. On the stage is a DJ booth that's very obviously one of a kind. At first glance it looks metallic and futuristic. Upon further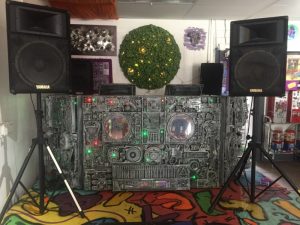 inspection you can see that's it's made from hundreds of small plastic pieces molded together. Guitars, saxophones, pineapples, a keyboard, record players, nuclear waste symbols, all expertly molded to create the booth. It reminds me of Han Solo frozen in carbonite, but with musical instruments instead of Harrison Ford. This particular piece was built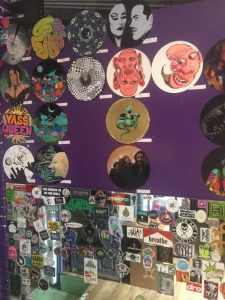 by the artist DAS. On the right side of the room are a few separated nooks that are also filled with paintings. Further back is a small room that serves as a kitchen/glass blowing studio/additional gallery space. One wall is covered with records from an event called For The Record. Artists submitted paintings done on vinyl records. The results shattered expectations. Each record purchased also comes with a mixtape of the record it was painted on, so the buyer can listen to it and supplement the viewing experience. Out back is a yard space with a large buffet table. The surrounding walls are covered with colorful murals that were painted live at yet another event. The inside and outside can be booked for private parties.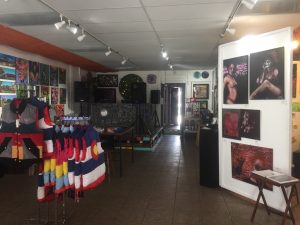 Sadie is a super talented artist herself. Her paintings are vibrant and imaginative. I'm a fan. You can (and should) check out some of her work at the gallery. Spectra is the perfect place to see some art, some music, or enjoy any of the numerous events they host. Saturday, April 21st is a hip hop and live art showcase called Th!s is NICE. The selection is extensive, and prices start at literally fifty cents. They feature paintings, glassworks, clothing, photographs, pretty much everything. They're also really supportive of local artists (and artists from everywhere) which is obviously great for the community. Stop by and see it for yourself, you can thank me later.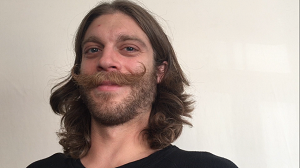 Jared is a local content contributor and aspiring author. He was fortunate enough to grow up in Golden, Colorado and graduated from MSU Denver. While an insatiable love of travel lures him all over the world, his roots remain firmly planted here. He enjoys writing short stories, poetry, children's books, societal observations, and everything else. A nature enthusiast and sunshine connoisseur, Jared is perfectly at home on any mountaintop or patio. He frequents art galleries and concerts, poetry readings and breweries, museums and bookstores. When he isn't making neighbors cringe at his musical attempts he can be found on a snowboard or sailboat, depending on the day. A perpetual adventurer and eternal patron of the road less traveled.