Space Gallery
Space Gallery sits on the southern end of the art district, at 400 Santa Fe Drive. Specializing in abstract and contemporary art, they offer compelling exhibits on a rotating basis. They feature artists with an emphasis on innovative media and experimental surface techniques. Their repertoire includes paintings, sculptures, ceramics, photography, printworks and more. They bring in big names from all over the world, while still showcasing quite a few local artists at all stages of their careers. Currently showing is an exhibit called Hard Lines: An Exploration of
Geometry. This is a group show with five contributing artists focused on a style called geometric abstraction. The pieces feature geometric, often impossible shapes in surreal or altered perspectives
Frank T. Martinez is a highly acclaimed artist and a Denver native. Painting professionally for more than 15 years, he's honed a style that takes a minimalist approach to geometric abstracts. His paintings often include dimensionally impossible shapes and vibrant colors. He also uses different layering techniques for the shapes and backgrounds in paintings, making the already strange looking forms appear even more out of place.
Ramon Bonilla is painter based in Denver. He grew up in Puerto Rico and received a BFA in Studio Painting from the School of Fine Arts of Puerto Rico in San Juan. His memories of his childhood home are influential in his work to this day. His paintings combine architecture, nature, and far-away places from his travels. He typically uses acrylic paint on wood panels, but he has also done numerous installation pieces and murals in the past.
Jodie Roth Cooper is an artist and designer. Born and raised in London, he moved to New York at the age of 19. There, he studied metalsmithing and 3D modeling at Skidmore College. His art mostly involves sculptures and large-scale installations typically using metal. He creates twisting, surreal sculptures that look like what jungle gyms dream of being when they grow up.
Anthony Falcetta grew up in Connecticut and is now based in Massachusetts. He uses memories from his childhood and draws on contemporary influences to create intriguing abstract paintings. His technique focuses on color combination, textures, and finding an overall sense of balance in each piece. He improvises and reconstructs layer
by layer to incorporate deep and complex feeling into his work.
Howard Hersh is a third-generation artist, originally from L.A. Now based in San Francisco, his work has been featured in hundreds of exhibitions, museums, and private collections worldwide. He aims to "assemble and depict relationships-art, nature, architecture, and spirituality." He also incorporates a strong structural element. Many of his pieces are intricate pairings of wooden sculptures and abstract paintings.
The contributing artists in this series really complement each other's styles. It's awesome to see five different perspectives and approaches to the same artistic goal. The pieces are mesmerizing, and otherworldly. Hard Lines will be showing through September 22nd and admission is free to all ages. For more details check out their website at spacegallery.org.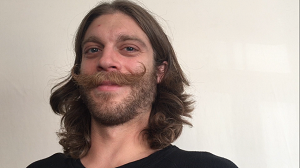 Jared is a local content contributor and aspiring author. He was fortunate enough to grow up in Golden, Colorado and graduated from MSU Denver. While an insatiable love of travel lures him all over the world, his roots remain firmly planted here. He enjoys writing short stories, poetry, children's books, societal observations, and everything else. A nature enthusiast and sunshine connoisseur, Jared is perfectly at home on any mountaintop or patio. He frequents art galleries and concerts, poetry readings and breweries, museums and bookstores. When he isn't making neighbors cringe at his musical attempts he can be found on a snowboard or sailboat, depending on the day. A perpetual adventurer and eternal patron of the road less traveled.