Sex and Pizza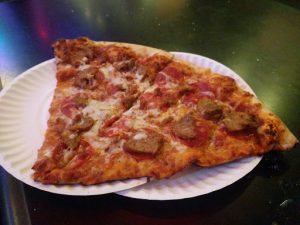 I started writing this piece with the idea that I would talk about late-night, post-show eats in Denver. As I wrote, I realized that I was writing specifically about pizza by the slice. As I wrote even more, it became clear that I was really just venting about my sex life. It would seem that I have f***ed my way through every after-hours pizza joint in the Queen City. Here is the short list of pizzerias and what I have to say about them and the men I explored along the way. There's a lot of hot slices here.
The Pie Hole wins straight away for "Best Name." It's on South Broadway and is a great choice for a quick slice to coat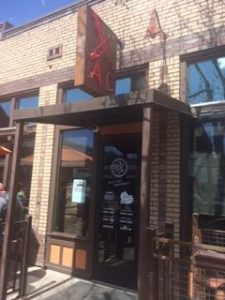 your gut with cheese and grease while bombing through the dive bars and dance clubs.  Slices are quick and hot. Paper plates line the walls with amateur art and self-expression. I once declined the offer of a sexual encounter in the bathroom here even though I was wearing presentable undies.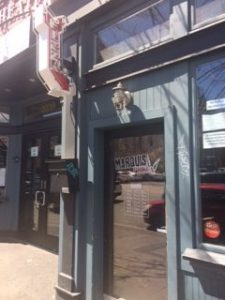 The Marquis Theater snuggles down into LoDo where it hosts indie bands and pumps out some of the best late-night pizza in town. You have to buy a ticket to see the show, but even without tickets you can belly up to the antique facade and wend through the tight, bendy line to order pizza to go. It's available by the slice (extra points!) or the pie, with vegan options available. This is not a restaurant. Take your slice and go back out on the sidewalk to stuff your maw with 'za. On my first trip to the Marquis pizza line, I wasn't hungry, but I ate a slice with a surface area larger than my head in an effort to impress a guy. He was hot and I wanted to have sex with him. Don't think too hard about the logic of this one. It worked for me.
If you're catching a show at the Fillmore or the Ogden theaters, your nearest pizza option might be Slice Works. It's a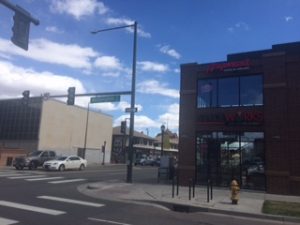 big, glass, postmodern cube that hunkers the corner of Washington and Colfax, conveniently across the parking lot from the Argonaut Wine & Liquor store. It lacks a creative atmosphere, but the pizza is adequately… pizza. Slice Works is where I told a gin-drunk story to my date about my weird fantasy that the guy who mows my lawn has a crush on me. I dated that guy for way too long (the date guy, not the lawn guy), since he obviously wasn't that into me and could never, ahem, perform when with me and he could with the other women that I knew he had banged because I asked them and they said he was great. Yeah. Great.
I have many pet peeves. If peeves were really pets, I'd be an animal hoarder. One of them is putting horrible and obscene things on pizza. White sauce on pizza is an abomination. Leafy greens do not belong anywhere near marinara
sauce. Kale pizza is for people who won't admit that they suck. Pizza is a delicate dance of hearty carbs, fruity sauce, and fatty cheese. Toppings should NEVER include more carbs. Take your mashed potatoes and go back to Portland. For this reason, I cannot endorse Ian's Pizza, a hipster, snowflake, even-food-is-political pizza place, even though I've eaten there many times because it's right around the corner from a venue that I frequent. Ian's squats down near Coor's Field and puts awful things on pizza. Broccoli, macaroni, rice and beans, sliced potatoes, ranch dressing…They also use jalapenos, which I consider to be unholy, but they are inexplicably popular in Colorado, so I'll let that one ride. On a positive note, Ian's sells baggies of "puppy chow" at the register, those delectable little nuggets of chocolate-peanut butter-powdered sugar ambrosia. I once slept with a guy who told me that his name was Ian and it very probably might have been.
Sexy Pizza. This place is just called Sexy Pizza. The slices are good, large, cheesy and if you don't think that cheese is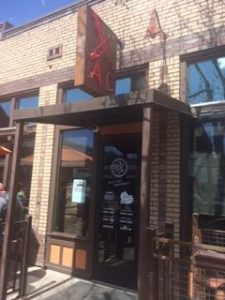 sexy, we have nothing more to talk about. I walked here in the rain with a hot guy who said that he loved me. We sat in the tiny storefront and steamed from the rain in the blissful heat of the ovens. We went there because I had slice vouchers that were swag from a show I had performed in. He was sleeping with someone else. He asked me to move to California with him and then redacted the offer two weeks later, but he didn't mind if I never shaved my legs, like, ever. It's located near Cheeseman Park, which I'm told used to be a gay cruising hotspot and where I once wore a denim miniskirt and made out with a guy and where a friend of mine who I've never slept with found a dead body. I want to emphasize that I am the only connection between pizza, bad fashion, cadavers, and feckless dudes. He moved to California and I still have his wine corkscrew, which is about all the screwing I got from him.
Next, we mosey onward back to Colfax, toward the Bluebird Theater and the Atomic Cowboy, which lives a double life as Denver Biscuit Company during the day and Fat Sully's Pizza at night. Their biscuits are legitimately really good. I recommend the mushroom pot pie. The pizza is big and served late into the night, which is all that is required of post-show drunk food. I once had Mother's Day brunch here with a guy I didn't like but was still banging and his mom. Here is also where I broke up for no good reason over breakfast with the only quality guy that I ever met online after working an overnight shift and going on an unhinged rant against the drab and mousy desk-wallah in HR about overtime pay. This was surely my finest moment as a human being. The Atomic Cowboy is also where I went on a date with Guy 2 seven hours after banging Guy 1. I did not have sex with Guy 2 because I didn't want to throw things off with Guy 1, even though it was technically non-exclusive.  Guy 1 broke up with me four days later for a tiny brunette who he met at a rave and who is exactly the same type as every other woman he's ever dated. I am neither tiny nor brunette, but I can eat a slice of pizza with a surface area larger than my head, which means that I can probably eat her entire body in two bites.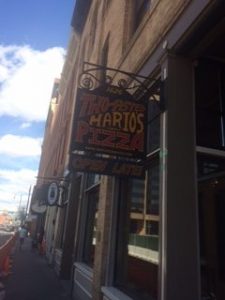 Lastly, we head back downtown to Two-Fisted Mario's. I haven't been there, but I deployed the guy I'm currently sleeping with to investigate on my behalf. He's extremely qualified to evaluate pizza because pizza is the only thing he really likes to eat. We ate pizza on our first date, on which he didn't ask for sex and walked me to my door. We also ate pizza on most of our dates after that, punctuated by meals of chicken tikka masala during shark week. He doesn't mind having sex then because "your body is always beautiful." He tells me that the pizza is a solid B+ while sober. The wait for your slice is a bit long, which is hugely important when you're drunk and needing to ingest grease and carbs before you topple over. Current Guy reports that toppings are limited, but "that's ok because there's always pepperoni and pepperoni is Good Enough when you're drunk." You *can* choose your own toppings, though. This is libertarian pizza. It also has the merits of being nearby to the downtown venues and being open late every night. He is not sleeping with anyone else.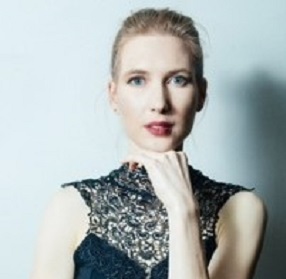 Jessie Hanson lives and works in Denver and couldn't be happier about it. Like the best-possible kind of Jekyl-and-Hyde scenario, she splits her life between science and storytelling. During the day, she performs clinical diagnostics and messes around with test tubes. At night, she performs behind the mic as a standup comedienne, in the air as a circus aerialist, and in rhinestones as burlesque dancer. She begrudges the hyper-inflated cost of a decent pair of false eyelashes. When she's not on stage, she sweating it out as an endurance athlete in triathlons and marathons across the West. She begrudges the hyper-inflated cost of a decent pair of running shoes. She's thrilled to be on board with OnDenver and writing about science, comedy, circus, athletics, and general fun on the Front Range!