Rock Solid – 8 Reasons Why Colorado is Playoff Bound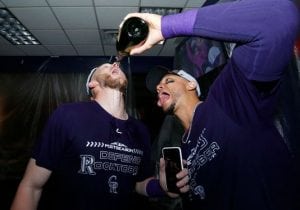 What a difference a week makes.  Well, ten games to be exact.  After getting swept by the Los Angeles Dodgers, the Colorado Rockies were sitting at 82-70 and 2 ½ games out of first place.  Trevor Story had injured his arm, Nolan Arenado was in a major slump, the Rockies were fading from playoff contention, and I was writing their obituary. But the Rockies ended up winning nine out of their last ten games in what could only be described as the perfect storm, and for the first time in Rockies history, Colorado has made the playoffs in back-to-back seasons.  I tried to find the one single catalyst for the epic turnaround, but instead I found eight.
David Dahl – Talk about a growth spurt. Ryan McMahon may have not been quite ready for the big leagues, but

Dahl sure was. In desperate need of another bat, Dahl ended up with 16 HRs and 48 RBIs, including homeruns in six of his last seven games.

Charlie Blackmon – My daughter asked why a homeless man is starting in center field for the Rockies, but insensitivity aside, hitting .327 with 5 HRs

and 11 RBIs in September, including hitting for the cycle in the September 30th finale, provided the Rockies with the necessary shelter.

The Fans – After sweeping the Arizona Diamondbacks on the road, the Rockies came home to monster crowds while selling out the final series against the Washington Nationals. A sell out crowd of 48,000, not to mention a season total of over three-million, had to fuel the final homestand just a little.
Starting Pitching – Kyle Freeland has been magnificent all season, and the last ten days were no exception. His 17-7 record, clutch starts, and 2.61 only tell part of the story.  German Marquez set a team record striking out 8 batters to start a game, while posting a September ERA of 2.14, Jon Gray pitched a gem in a must-win versus Philly, while Antonio Senzatela and Tyler Anderson added quality starts to the run.
Trevor Story – After the Dodger game we thought Story was done, and the season was done. All Trevor did was rebound to finish with 36 HRs, 107 RBIs, 42 doubles, and steal 27 bases in his run for the MVP.
The Bullpen – Adam Ottavino has been solid all season, but Scott Oberg had an ERA of 1.72 in September, while Wade Davis bettered that with a 0.82 while setting a Colorado record for saves with 43. The Rockies finished so strong, even Bryan Shaw chipped in allowing no runs in 3.1 innings in the final month.
Ian Desmond, Carlos Gonzalez, and Chris Iannetta – Desmond looked like a high-paid bust, Cargo was over-the-hill, and Ianetta couldn't hit his weight, but all three came up big in the last ten games, as well as all season. Desmond ended up with 22 HRs and 88 RBIs, Cargo rebounded with 16 HRs, 64 RBIs, and hit .278, while Iannetta continued his great defensive skills while adding clutch hits and occasional power over the long season.
Nolan Arenado – His slump during the Dodger series was hard to watch, but if slumping means finishing a season with a league-leading 37 HRs, 109 RBIs, and 103 runs, I'll take it.
Maybe it's the fact that Matt Holiday is still in the dugout, but it's hard not to think back to 2007 when the Rockies won 14 of their last 15 on their way to the World Series.  Holiday was remembered for
that historic play in which he tagged up from third, barely avoiding the tag, and winning the game with a bloodied lip.  And now he sits, years later, like Roy Hobbs from The Natural.  The book is a little sad, but in the movie version, Roy's team magically wins it all.  Maybe it's a sign.
Images via usatoday.com, m.mlb.com, roxpile.com, sportingnews.com, batsblog.nytimes.com, themoviemind.com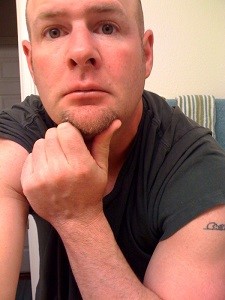 Alan Tapley is an educator, author, and blogger who has lived just outside of Boulder for the last twenty years.  His published work includes two novels, two children's books, a series of cartoons in the Minneapolis Star-Tribune, and multiple sports related articles. His love for family and the state of Colorado is only matched by one thing, his passion for sports.  The first baseball game he ever attended was at Wrigley Field, before there were lights.  At the final Bronco game at the old Mile High, he allegedly cut out a piece of his seat in the South stands.  But regardless of being here for the Avalanche's last Stanley Cup, the Rockies only World Series appearance, and all the Broncos' Super Bowl Victories, his wife never fails to remind him that he wasn't at the University of Colorado in 1990, like she was.  The year the Buffs football team won the National Championship.