Robert Bell
Born in Japan and raised in Colorado, Rob grew up sketching and painting people in native landscapes. His parents' eastern influence fueled his passion for art and culture, a foundation he continues to draw upon daily. Rob attended Colorado State University for a bachelor degree in Graphic Design and then the School of the Museum of Fine Arts, Boston for graduate studies in studio arts. Upon returning to Denver in 2007 he promptly began expressing himself through abstract painting. Around 2014, he started exhibiting his most current abstract figure work using all of his past experience in drawing, painting, multimedia, and design to create the imagery you see today.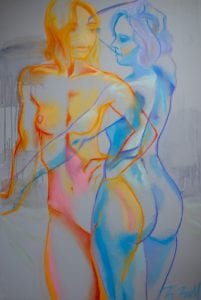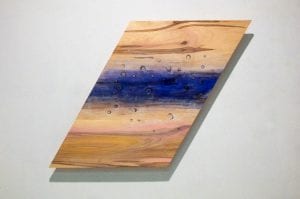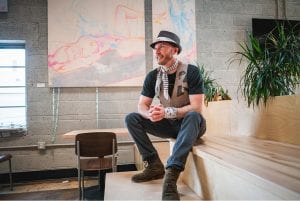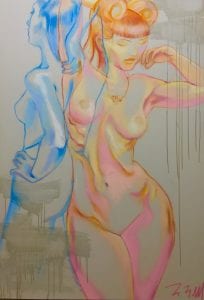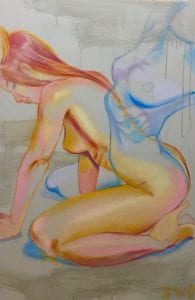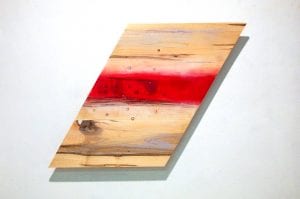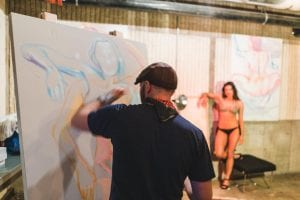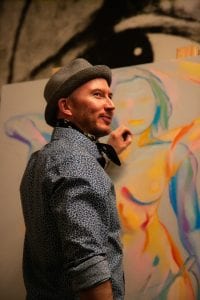 "Each collection of work on display is a single circle overlapping one another. At the center of these intersecting circles, you find the core of my artistic drive: remaining conflict in the moment of creativity. During these moments, I find myself obsessing over each piece of work as it is plucked from my subconscious and forced onto the canvas. I'll compose each line, each brushstroke in my head before entering the studio, only to abandon those preconceptions and allow nature to compose itself. The intersection of sensuality, shape, dimension and flow are all fragments of a whole that pull my creativity across each medium with finesse and spontaneity. By attracting the eye with a high-contrast color palette, I tear away each seam of the illusion by abstracting the organic subject matter. This is my analogy for the duality of the human condition-the pull between the old world we live in, and the reveries we find ourselves musing over. Each of my compositions drives the viewer to find the balance between striking forces that define my work: warm or cool, analogous or complimentary, realism or abstractionism. Finding the inherent beauty of the natural world around us by drawing on these opposing forces pushes each work to detail itself as both the beginning and the end of a journey, of a moment, of a meaning."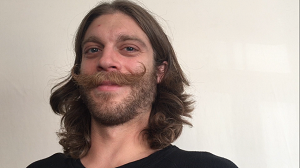 Jared is a local content contributor and aspiring author. He was fortunate enough to grow up in Golden, Colorado and graduated from MSU Denver. While an insatiable love of travel lures him all over the world, his roots remain firmly planted here. He enjoys writing short stories, poetry, children's books, societal observations, and everything else. A nature enthusiast and sunshine connoisseur, Jared is perfectly at home on any mountaintop or patio. He frequents art galleries and concerts, poetry readings and breweries, museums and bookstores. When he isn't making neighbors cringe at his musical attempts he can be found on a snowboard or sailboat, depending on the day. A perpetual adventurer and eternal patron of the road less traveled.