Music and Art Scene: William Havu Gallery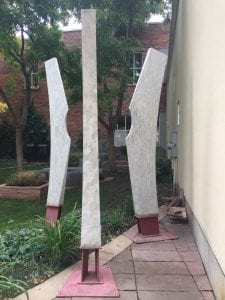 The William Havu gallery has an extensive history and an artist list to match. Over the last 45 years they've represented hundreds of artists specializing in post modernism and abstraction. While they have hosted a number of notable emerging artists, the majority are fairly well established, mid-career professionals from Colorado and the Southwest. William Havu initially opened his namesake gallery in Aspen in the early 70's. His art background is extensive, and he seems like quite the character. In interviews he mentions playing drums with Hendrix and befriending Hunter S. Thompson. Havu moved into the Golden Triangle more than 25 years ago and has helped Denver expand its vibrant art scene.
The current exhibition is by artist Emilio Lobato. Titled, Retro-Spectacle: 25 Years of Paintings and Prints, it shows the evolution of Lobato's work. His ancestors lived in the San Luis Valley some 300 years ago, and the area has a large influence on his art. Using geometric shapes and natural colors, he creates paintings, prints, and collages. This particular exhibit features works spanning two and a half decades. Though it doesn't cover his entire career, it does give audiences a good idea of Lobato's style and progression.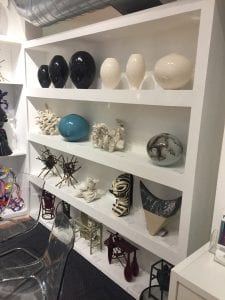 There are dozens of pieces in all shapes and sizes. Some are complicated, with many spheres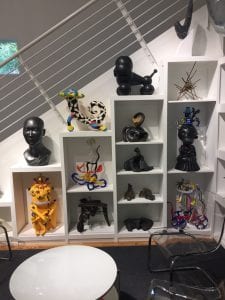 and squares connected by colorful lines. Backgrounds are constructed using newspaper clippings and encyclopedia pages in English, Chinese, and Spanish. Others are more minimalist and draw attention to just one or two asymmetrical shapes. Lobado also incorporates his Latino heritage into his works by titling most of them in Spanish, with an English translation alongside. Originally, the plan was to arrange the works in a rough timeline, but chronology was quickly abandoned for aesthetic value. Some of the prints made twenty years apart ended up fitting together nicely. It's interesting to see some of the ideas Lobato used at the beginning of his career and how he revisits them in his later work. There are also a few pieces done in collaboration with artist Virgil Ortiz. These include both prints and a pair of ceramic sculptures.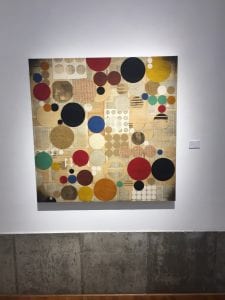 Their styles are similar and complement each other well. The sculptures offer a glimpse into another outlet for Lobado's style, which transfers nicely across mediums.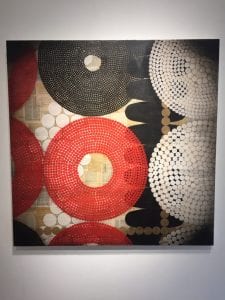 The William Havu Gallery is sophisticated but approachable. They have two floors of beautiful exhibition spaces and a sculpture garden out back. They have rotating main exhibits with some more permanent sculpture displays throughout. The gallery is free to the public and located at 1050 Cherokee Street in the Golden Triangle. Business hours are 10-6 pm Tuesday through Friday, and 11-5 pm on Saturdays. This is a lovely gallery and Lobato's newest exhibit is absolutely worth a look. Retro-Spectacle will be on display through November 10th.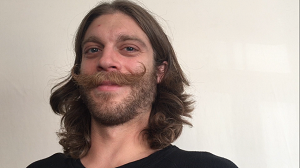 Jared is a local content contributor and aspiring author. He was fortunate enough to grow up in Golden, Colorado and graduated from MSU Denver. While an insatiable love of travel lures him all over the world, his roots remain firmly planted here. He enjoys writing short stories, poetry, children's books, societal observations, and everything else. A nature enthusiast and sunshine connoisseur, Jared is perfectly at home on any mountaintop or patio. He frequents art galleries and concerts, poetry readings and breweries, museums and bookstores. When he isn't making neighbors cringe at his musical attempts he can be found on a snowboard or sailboat, depending on the day. A perpetual adventurer and eternal patron of the road less traveled.