Millers and Rossi
Millers and Rossi is a contemporary art gallery in the RiNo art district. They show a wide range of works spanning a variety of media. Representing mostly locals, their artist list is small but resounding. Each and every artist represented is exceptional. Art isn't the only thing Millers and Rossi has to offer, however. It's also a speakeasy with an awesome bar in the back. An art gallery with a bar? Take my money! I was a little concerned at first that the gallery might be more of a side note to the speakeasy aspect. This was not the case. The gallery holds its own. They have a diverse selection that includes wood carvings, sculptures, photography, and classically-influenced and abstract paintings. Here are a few of my favorites.
Trevor Lepage is a visual artist based in Denver. Originally from Italy, he's a recent and very welcome addition to the local art scene. His works are predominantly sketches and paintings done with pen, watercolor, and oil paints. Stylistically, his art is fairly broad, covering everything from detailed depictions of eyes, political satire, and jungle flowers, to multi-faced figures and complex abstracts. Lepage has produced an extraordinary amount of work for such a young artist.
Cynthia Berg is a Denver-based artist/model specializing in fine art techniques. She typically uses oil and acrylic, creating paintings that transcend the canvas.  Her works range from nudes to landscapes to abstract portraits crafted from explosions of color. Lately, she has been perfecting hyperrealism techniques with varying textures. What stands out about Berg is her ability to capture powerful emotions in the facial expressions of her subjects.
Kelly Gilleran is classically trained in painting and illustrating. Her work is super fun and unique. Lately she's been focusing on vintage-type pinup portraits, with an appetizing twist. They're all food-themed. Stiletto-adorned legs sprout from an avocado. A Coke bottle does the Can-Can with a bag of popcorn and a hot dog. A banana strikes a runway model stance, peeled to the waist. In addition to paintings, she incorporates her designs into a ton of products like clothing, beach towels, pillows, laptop skins, greeting cards, journals, cutting boards, coffee mugs, shower curtains, stickers, wallpaper and literally a thousand other things. Her work is has an awesome retro feel, and it's one of her pieces that covers the somewhat hidden door to the speakeasy.
Behind a painting of a bottle sashaying with a cocktail glass is the speakeasy section. The room is centered around a three-sided bar, with small tables along the walls. They offer a great selection of beer, liquor and cocktails with fancy ice cubes and garnishes. There's also a food menu, with tapas sandwiches, salads, and stuffed churros for desert. The vibe is trendy and relaxed, like a crossover between Forest Room 5 and Ophelia's.
This is a standalone gallery that doesn't sacrifice quality or selection to cater to the speakeasy. Their artists are captivating, diverse, and local. Though small, it makes the most of its space, giving each artist ample room to showcase their individual styles. The bar in the back is the cherry on top of any visit. Millers and Rossi is located at 3542 Walnut Street in Denver. Hours are Wednesday and Thursday 5pm-1am, Friday and Saturday 5pm-2am.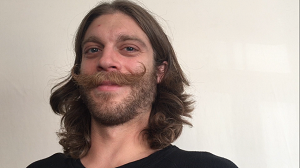 Jared is a local content contributor and aspiring author. He was fortunate enough to grow up in Golden, Colorado and graduated from MSU Denver. While an insatiable love of travel lures him all over the world, his roots remain firmly planted here. He enjoys writing short stories, poetry, children's books, societal observations, and everything else. A nature enthusiast and sunshine connoisseur, Jared is perfectly at home on any mountaintop or patio. He frequents art galleries and concerts, poetry readings and breweries, museums and bookstores. When he isn't making neighbors cringe at his musical attempts he can be found on a snowboard or sailboat, depending on the day. A perpetual adventurer and eternal patron of the road less traveled.