Let Me Eat Cake!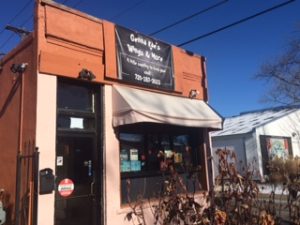 A while ago, I indulged myself in a bit of distance from writing about cool things to do in Denver and wrote about things to eat the morning after. I beg your indulgence as I continue this trend of writing-about-things-I-want-to-eat-when-I-bike-home-from-venues-in-the-wee-hours, which is exactly how I discovered Genna Rae's Wings & Mo. After eating there, my only wish for improvement in the experience is that they were open at 2am, when I could nosh on some deep-fried foods on my way home and not have to drag myself back out again in the glaring light of day.
I live in the Clayton neighborhood and love it here, but it has a dearth of food service. It's almost like people live here in their houses instead of setting up restaurants for my convenience. Genna Rae's moved in a couple of years ago and I've biked past it many times, but always late and often tipsy. It wasn't until this weekend that I mustered the wherewithal to get there during daylight hours.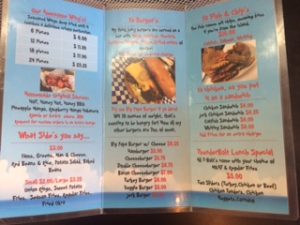 I wandered over, squinting in the relentlessly cheerful sunlight, with my weekend brunch buddy Jim. I had expected Genna Rae's to be a small eatery, with a table or two inside; but it's not. It's strictly takeout. You can stop in and pick up your order, or place it online and get delivery with postmates, grubhub, or seamless. The interior of the shop is a tiny vestibule with a service counter and a busy kitchen. I peeked around the corner and saw an enormous cauldron being stirred by an enormous man with a cartoonishly enormous wooden spoon. If Disney designed professional, large-scale cookware, this spoon would be their flagship piece. The cauldron held something burbling reddish-orange that prompted me to hope that the seasoning in this place would be spicy and have notes jerk-y, curry-y, or barbecue-y. Another large man held double-fistfuls of chicken cutlets that looked like they would also fulfill such a delicious duty.
Genna Rae's is a genuine family establishment. The charming young woman working the counter, Ashley Biggers, is the granddaughter of the man with the huge spoon, Genn Dickerson, who is the founder/owner/flavor master. The man with the cutlets is Gerad Dickerson, son of Genn and uncle of Ashley. The elder Dickerson is originally from St. Thomas and his flavors reflect the Caribbean. He came around and talked to me for a few minutes about his restaurant. The name is for his daughter, Genna Rae, and he prides himself on his distinctive flavors.
"You have to have your food be different than everyone else's. It has to taste like your food," he told me, with conviction. My hopes for exceptional flavors continued to increase.
Jim ordered an enormous bacon cheeseburger (ten ounces of manly meat!) and onion rings while I got fish and chips. The option for fish were catfish, whiting, or salmon, the last of which was something I've never seen before for fish and chips. If I were a better restaurant reviewer, I'd have ordered the salmon, but I'm not. I'm just a hungover eater and I got the whiting and also some wings, because they're on the marquis.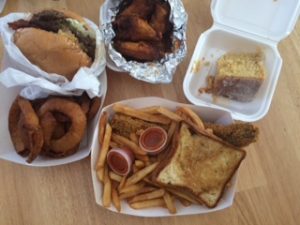 It takes a while to get your food at Genna Rae's. As the sign on the wall says, "This level of cooking takes a bit of time!" Jim and I hung around and chatted with Ashley and Genn. Gerad chimed in occasionally, but put most of his attention on the fryer. I noticed a pair of Rubbermaid cake carriers lounging on the back counter, as paired and appealing as perky breasts. They contained matching cakes. Being who I am, I asked about them.
"My uncle makes them," Ashley said. "He's the baker in the family."
Being who I am, I ordered a slice. Ashley boxed one up and handed it over.
"That'll be $4.97," she announced and then, perhaps seeing my eyes open a tad wider, added "It's a big piece." Which was true, but being who I am, I withheld judgement until I could eat it.
Jim and I gathered up our order and headed out to feed our hangovers. He and I have a long history of eating; we've got it down to a science. We cracked open the containers, spread out the food, and sailed in. The burger, which was clearly not a pre-made/frozen patty, was juicy and generous with itself. The fish was both crisp and succulent with a particularly satisfying crust. My hopes of jerk were not disappointed. I'm usually not a big fan of wings, but the mango-pineapple sauce made these worthwhile even for a skeptic like me. Then it was time for cake.
I poked my fork in for a nibble. Then returned for a bite. Then back again for a chunk. Ashley had told me it was a rum cake (how Caribbean!) and the main vehicle for the rum was the icing. When you put alcohol into sugar, the result is the pastry-arts equivalent of a speedball. I highly recommend this. (Alcoholic icing, that is, not speedballs. I'm not very chemically adventurous.) The sponge was rich, dense, moist. Gerad's virtuosity is not limited to a perfect fillet of fried fish. The man has demonstrably mastered cake. Jim and I locked eyes like either ardent lovers or arch enemies. The slice was indeed large, but not large enough for both of us to be satiated.
"I bought the last three brunches," he remarked, almost casually, as if this bit of financial indebtedness were irrelevant to the current negotiation.
He got the icing.
We are now square.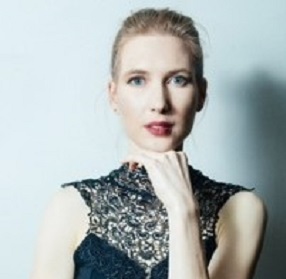 Jessie Hanson lives and works in Denver and couldn't be happier about it. Like the best-possible kind of Jekyl-and-Hyde scenario, she splits her life between science and storytelling. During the day, she performs clinical diagnostics and messes around with test tubes. At night, she performs behind the mic as a standup comedienne, in the air as a circus aerialist, and in rhinestones as burlesque dancer. She begrudges the hyper-inflated cost of a decent pair of false eyelashes. When she's not on stage, she sweating it out as an endurance athlete in triathlons and marathons across the West. She begrudges the hyper-inflated cost of a decent pair of running shoes. She's thrilled to be on board with OnDenver and writing about science, comedy, circus, athletics, and general fun on the Front Range!