Jared Steinberg
Jared Steinberg was born and raised in Denver, Colorado. He graduated from Arizona State University with a degree in studio art and continues his learning path through the Art Students League of Denver, the Scottsdale Artists' School, and the Watts Atelier of the Arts. He works in the River North Art District known as RiNo.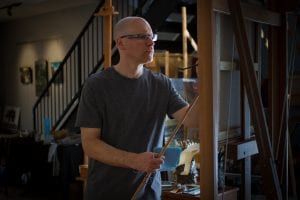 "I have always had a natural inclination and ability to draw since I could pick up a pencil. About ten years ago, I sought to expand my talent to be able to intentionally put ideas from my mind to canvas. The whole experience has given me a greater artistic vocabulary to be able to express myself. Now, I create to reveal the unspoken, visual truth of human experiences. I create to share my experiences through the art of life and pleasure.
"In recent years, I have been fortunate enough to travel to some artistically historic places in Europe. My inspiration extends beyond my travels to theatrical events and music concerts. These experiences have greatly influenced my way of painting in terms of visual vocabulary and approach.
"I usually create in the studio, referring to photographs from my travels. I work in oil paint through a layered additive and deductive process that highlights the rhythm of brushstroke, creating an energy in the work."
Jared participates in RiNo Art District's First Fridays and will be opening his studio for those events in the spring and autumn of 2020. His current series focuses on Denver scenes with occasional variations of his European travels.
Learn more about the artist and his work at:
https://www.jaredsteinberg.com/
Instagram @jared_steinberg
Facebook https://facebook.com/jaredsteinbergart/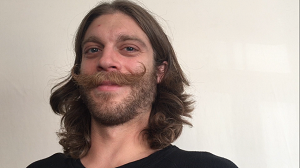 Jared is a local content contributor and aspiring author. He was fortunate enough to grow up in Golden, Colorado and graduated from MSU Denver. While an insatiable love of travel lures him all over the world, his roots remain firmly planted here. He enjoys writing short stories, poetry, children's books, societal observations, and everything else. A nature enthusiast and sunshine connoisseur, Jared is perfectly at home on any mountaintop or patio. He frequents art galleries and concerts, poetry readings and breweries, museums and bookstores. When he isn't making neighbors cringe at his musical attempts he can be found on a snowboard or sailboat, depending on the day. A perpetual adventurer and eternal patron of the road less traveled.