Inside the Psychedelic Ant Art at CU Boulder's Fiske Planetarium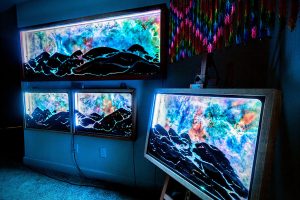 From January 22 to June 10 2018, Fiske Planetarium will showcase the creative work of Jacob Lemanski, a former design engineer. The exhibit features eight massive, continuously changing ant farms put to a backdrop of selections from the Hubble Space Telescope.
The inspiration behind these meditative and dreamy installations, lies in Lemanski's decision to quit his job and ride his bike 38,000 miles across the world (twice) over 999 days. During his trip, he discovered the art in solitude, self-reliance, and mindfulness. Upon returning, he felt compelled to build something that was personal to his journey and his newfound views of himself and the world around him.
Thus, "Ant Space" was born.
Created as an homage to the constantly changing horizon of Lemanski's journey, "The scene evolves at the pace of sprouting seeds and digging ants. It cannot be hurried nor can it be stopped." And the result is an experience as meditative and calming as it is stimulating and eccentric.
Each Ant Space is for sale, and there is an option for a customizable piece.
You too can play a role in the evolving nature of the ant farms. Add seeds and ants to sculpt its journey. Control the lights with a smartphone or tablet. Touch the glass for a more reactive light display. Use colored sand to create your own art and watch as the ants naturally smear and scatter the colors outward.
CU Boulder's Fiske Planetarium has been a platform for art, music, culture, and science for over 40 years. As a venue meant to serve the progressive and radical backdrop of Boulder, Colorado, Fiske rarely falls short. With a repertoire of events ranging from Lady Gaga Laser Shows to live scientific talks about the moon, Fiske has asserted itself as a haven for the wonderers, the diggers, and the incessant curiosities of the world we subside in.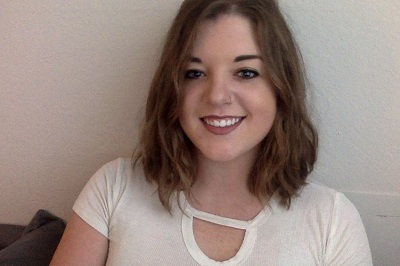 Sarah grew up outside of Boston and made one of her best life decisions to move to Colorado at the age of 18 to pursue both a degree in Psychology and Creative Writing at the University of Colorado at Boulder. After falling in love with the mountains, the music scene, and the lively culture, it was clear there would be no return to the East. Sarah is an avid writer and reader of poetry and short fiction, and is working towards a career in journalism. She has both a Husky mix and a kitten (hence the incessant amount of animal hair stuck to her at all times), and in her free time, is either exploring the vast mountains with her fur baby, or planning the next Western road trip.