I'll Tell You About Teller Street Gallery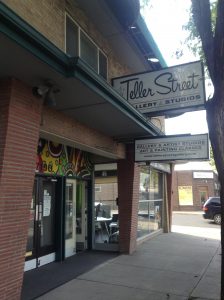 Teller Street Art Gallery and Studios is on 38th Street in Wheat Ridge, CO, west of Denver. It's a hidden gem! The place is down-to-earth and fun but also has some very talented and innovative art in the gallery. The great thing about Teller is that it is a very functional space. Gallery owner and artist Nicole Anderson and fellow artist Kaylie instruct art classes to the public for a reasonable price-they are what are known as the paint-and-sip art classes generally lasting no more than 3 hours, at the end of which the participant has a finished painting to take home with her at the end of the evening!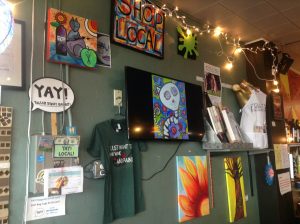 The Gallery area features several local artists; even though it is fairly small the work is well-displayed and easy for patrons to browse and become inspired (I know I was)! Of course the first thing I always look at are the paintings and I was not disappointed! The artwork had great content, from biking to horses, elephants and cats to neon wine bottles and more! The overall vibe was one of openness to new ideas and creativity while still communicating ideas and inspirations to the public with recognizable subject matter. I have respect for and enjoy abstract paintings but I can't stand a whole gallery devoted to what looks like a dirty floor-mat or a computer-generated image. The painting was not limited to canvas either, there were doors, bottles, even mannequins painted beautifully. After a full viewing of all the lovely paintings, including some in vibrant neon colors by gallery owner Anderson, I moved on to the eclectic mix of jewelry on display–I was not disappointed here either! There were eye-catching necklaces made of forks and spoons, a few different pieces made my a local artist that featured tiny cogs from watches arranged in beautiful formations and sealed in resin of some sort. I had to try on several beautiful rings and necklaces promising that my husband would be back to buy me one!
The staff is friendly and helpful in every way, if I didn't have things to do I probably would've stayed all afternoon -and chatted! There are artist studios in the lofts above the gallery. Any waste items that can be turned into art are creatively done so; wine bottles are painted and drilled so you can place lights inside, corks are painted and make into keychains, the list goes on but I won't spoil it for you! Check it out yourself! The paint-and-sip art classes are for all ages and skill levels and happen on a regular basis, walk-ins are always welcome. The area is nice too–it could be a nice place for a date or just a relaxing weekend outing.
Teller Street Gallery
303.424.9273
7190 W. 38th Ave., Wheat Ridge, CO 80033
www.tellerstreetgallery.com
@tellerstreetgallery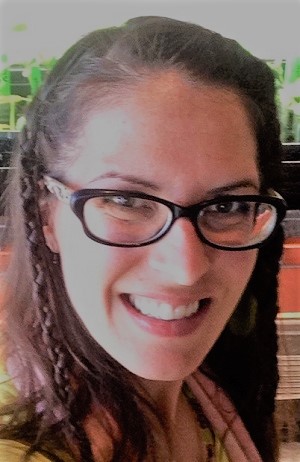 Katy was born and raised in Gravette, Arkansas. She grew up in a holler several miles from the nearest small town and spent hours playing in the nearby fields and creeks. She learned to appreciate the beauty of nature from a young age and was always creative. Her parents gave her free range to decorate her room and paint murals on the walls. She studied many different subjects in college but ultimately received her bachelor's of arts in anthropology from the university of Arkansas in Fayetteville. She loves to use her artistic skills to create positive change. She has donated paintings for silent auctions to numerous causes that pull at her heart strings from sexual assault awareness and prevention to the environment to vacation bible school. She has painted several storm drains in Arkansas with the reminder that they drain into local streams. She loves to travel and learn new things but at the heart of it all is God and her family, which are what truly inspire her to do her best work.