Helikon
Someone asked me recently what my favorite gallery was. I know, absurd. How could anybody pick one? It's like trying to choose your favorite song, the best flavor of ice cream, or your preferred superpower. Every time one comes to mind,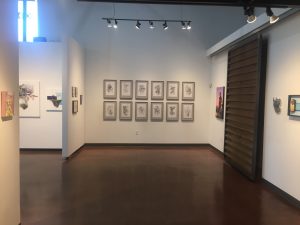 three more steps into the spotlight. It would have to be something imaginary. A skyscraper sized gallery with the first 30 floors full of emerging artists, 30 more of the greats, and then Meow Wolf straight up into the clouds, with a rotating stage that doubled as an elevator. On the bright side, even if Dr. Seuss doesn't turn up reanimated and architecturally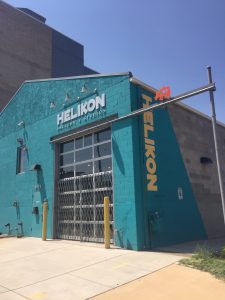 inclined, we still have tons of real galleries to check out. Currently at the top of my ever-evolving list, is Helikon.
While it's not quite skyscraper huge, it's definitely one of the bigger galleries downtown. Occupying a former warehouse at 3675 Wynkoop Street, Helikon has two floors and 10,000 square feet of space. The warehouse is divided into two galleries, classrooms, studio space, retail space, and a coffee shop. The galleries have exhibits rotating every 4-6 weeks. They feature all kinds of contemporary art, from paintings, drawings and portraiture, to narrative artwork and sculptures. They offer works from local and international artists, regardless of their notoriety.
Currently showing in the main gallery is a solo exhibition from Ryan Morse. Morse is a Denver-based artist and holds a BFA in Illustration from the Rocky Mountain
College of Art and Design. A fair amount of his work is done with oil paints, and involves scenes of nature or the human body. His newest series, Underneath, focuses on the female form. Many of the paintings in this series are portraits or partial portraits of nude and semi-nude women. He combines the idea of a portrait with something more abstract, often focusing on certain features, like the eyes, and then fading rest of the face or body into the background. It's a really interesting technique.
With all the extra space, Helikon is able to offer quite a bit more than many other galleries. The studio rentals give local artists a place to pursue their passions. In-house art is displayed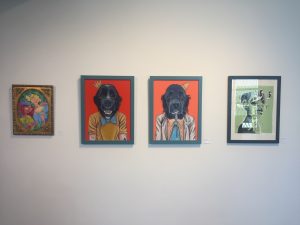 and sold in the gallery at no extra cost, which is pretty much unheard of. They also offer weekly classes with models to paint or sketch in various costumes and poses. The classes are available to people of all skill levels and they're only $7.00. If the original paintings are a little out of your price range, they have prints of current and past exhibits that start at ten bucks. They also sell books, toys, and a bunch of awesome patches and pins. Everybody can find something artsy within their budget here.
Helikon is open Tuesday thru Saturday, 12-6 pm and is free to the public. Their class schedule and any other info you may want are available at helikongallery.com.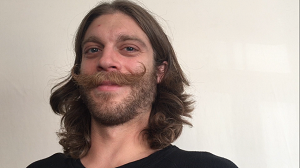 Jared is a local content contributor and aspiring author. He was fortunate enough to grow up in Golden, Colorado and graduated from MSU Denver. While an insatiable love of travel lures him all over the world, his roots remain firmly planted here. He enjoys writing short stories, poetry, children's books, societal observations, and everything else. A nature enthusiast and sunshine connoisseur, Jared is perfectly at home on any mountaintop or patio. He frequents art galleries and concerts, poetry readings and breweries, museums and bookstores. When he isn't making neighbors cringe at his musical attempts he can be found on a snowboard or sailboat, depending on the day. A perpetual adventurer and eternal patron of the road less traveled.