Giuda and MF Ruckus at The Bluebird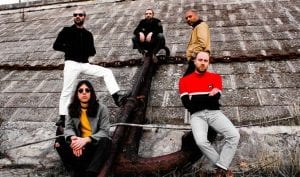 The Bluebird Theater is an East Colfax classic and a favorite of anyone who knows how to have a good time. They bring in a wide variety of local and touring bands with live shows almost every night of the week. I thought they might book some more mellow artists to recover from last weekend's Hex Fest, but I was wrong. They've announced a show next Saturday that you should already be getting stoked for: September 14th, The Bluebird welcomes Giuda and MF Ruckus.
Rome is an ancient city known worldwide as a mecca for art, knowledge, architecture, and a pivot point for all of western civilization. Its heroes and villains are glorified in legends and shrouded in myth. Countless generations will forever remember the names of Romans like Julius Caesar, Marcus Aurelius, Gaius Marius, and of course, the guys from Giuda, Saturday night's headliner.
Giuda is bringing their Junkshop Glam Rock extravaganza all the way from Italy. The band is the phoenix that emerged from a tragic conclusion to founding members' former band, Taxi. Giuda's music is rambunctious and irreverent, reminiscent of iconic 60s and 70s era British Glam Rock and enhanced with all the latest technological bells and whistles. Their first album, Racey Roller, was a huge success and was even named Vice's album of the year. Spurred by the praise, they went on tour, playing hundreds of shows throughout Europe and North America. To date, they've released four full-length albums and a number of hit singles, including a cover of Elton John's, Saturday Night's Alright or Fighting. Their latest album, E.V.A., dropped in April of this year.
MF Ruckus is a four-headed rock monster stitched together from the remnants of Forth Yeer (AKA Forth Yeer Freshman), The STDs, Road Crew, and Home of the Brave. How none of their songs made it onto Guitar Hero is a mystery to me. Tony Lee absolutely shreds over Logan O'Connor's heavy bass lines. Tyrell Blosser's percussion is unrelenting, and Aaron Howell draws audiences in with brawny vocals and exuberant stage antics. They've released two full-length albums, along with a bunch of live tracks and demos.
MF Ruckus has a ton of awesome side projects going on in addition to their music. They host a podcast aptly named The MF Podcast. It's a Mutiny Transmission, done in partnership with Denver's notorious Mutiny Information Cafe. Mutiny is the raddest of places, a coffee shop/bookstore where they host a myriad of events like live music, poetry readings, comedy, crafting activities, and a ton of others. If you've never been, you're missing out. MF Ruckus is also working a graphic novel and concept album series called The Front Lines of Good Times. You can find the latest chapter on their website at mfruckus.com.
September 14th, Giuda and MF Ruckus are bringing The Bluebird a party for the history books. Tickets are available at bluebirdtheater.net.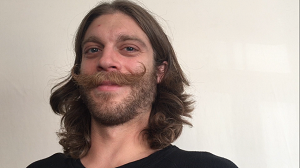 Jared is a local content contributor and aspiring author. He was fortunate enough to grow up in Golden, Colorado and graduated from MSU Denver. While an insatiable love of travel lures him all over the world, his roots remain firmly planted here. He enjoys writing short stories, poetry, children's books, societal observations, and everything else. A nature enthusiast and sunshine connoisseur, Jared is perfectly at home on any mountaintop or patio. He frequents art galleries and concerts, poetry readings and breweries, museums and bookstores. When he isn't making neighbors cringe at his musical attempts he can be found on a snowboard or sailboat, depending on the day. A perpetual adventurer and eternal patron of the road less traveled.