GEORGIA
I love this city. The music, the art, the scenery, the people; it's all top notch. One of the greatest things about Denver is the DIY community. It takes a special kind of person to pour their heart and soul, not to mention blood, sweat, and tears, into a project to benefit others. It takes a special kind of community to nurture these projects and help them thrive. Denver is an ideal in both of these aspects. We've had more than our fair share of legendary underground music venues, but now we have a slightly different DIY gem. The soon-to-be-all-the-rage garage gallery, GEORGIA.
You know the saying, be the change you want to see in the world? This is the art equivalent. Owner/poet/comedian/librarian/curator extraordinaire Sommer Browning took it upon herself to convert her garage into an alleyway art portal back in 2017. Inspired by the idea of bringing people from all walks of life together under one roof, she makes good use of both her garage and her connections to the Denver art scene. While GEORGIA is very much a thriving art space, it still has a day job as a garage. Exhibitions are shown on select weekends throughout the year, often coinciding with the First Friday Art Walk. They show mostly local artists from diverse backgrounds and styles. The events aren't limited to just visual art. They also collaborate with local bands, writers, comics and the like.
GEORGIA's inaugural show featured collages by local visual artist Joshua Ware. They teamed up with another Denver gallery, Counterpath, to embrace the garage theme. While Ware's works decorated the walls of her garage, the contents previously housed there were displayed in all their glory at an exhibition at Counterpath.
In an exciting geographical and technological twist, Georgia is experimenting with live streams from other like-minded locations and individuals. These streams bridge the physical gap between spaces and can be a huge asset in their pursuit of bringing people together for a shared art experience. Cohorts include local musicians, other pop ups around the city, and even their sister gallery, 1122, in Portland (also a rad garage pop up).
Their next exhibit, much like everything else from GEORGIA, is outside the box. It will feature photographs and sketches from Briget Heidmous. But that's not all. A large part of this exhibition relies on audience participation. How does it work? To attend and participate send an email including your mailing address to georgiaartspace@gmail.com before March 22nd to sign up and they send you an image from Heidmous. You then photograph the image in a place of your choosing and send that picture to GEORGIA. This is a really creative way for people to include their own experiences and interactions with the art. It reframes the original piece in the perspective of an active viewer. SKYLINES will be showing April 5th -7th.
Georgia is located at 952 Mariposa Street, but entrance is in the alley out back. Their hours are sporadic, and absolutely worth the wait. To check out upcoming exhibitions or any other info, visit their website at sommerbrowning.com/georgia.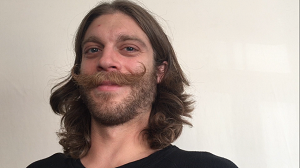 Jared is a local content contributor and aspiring author. He was fortunate enough to grow up in Golden, Colorado and graduated from MSU Denver. While an insatiable love of travel lures him all over the world, his roots remain firmly planted here. He enjoys writing short stories, poetry, children's books, societal observations, and everything else. A nature enthusiast and sunshine connoisseur, Jared is perfectly at home on any mountaintop or patio. He frequents art galleries and concerts, poetry readings and breweries, museums and bookstores. When he isn't making neighbors cringe at his musical attempts he can be found on a snowboard or sailboat, depending on the day. A perpetual adventurer and eternal patron of the road less traveled.