Gender Equality Mechanics–Bikes Together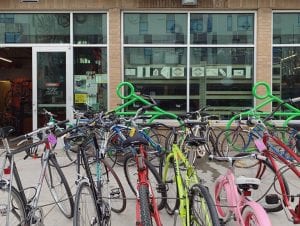 Bikes are a splendid example of a thing that unites a community and offers a network of caring and support. Cities that plan and build for bicycle transit have a higher quality of life. People that ride bikes are happier than those that don't. Bikes are the closest thing we can get to human-powered flight. This last statement is subjective, but I stand by it. Bikes are not God per se, but they are goddamned fun!
This premise might come across as a bit hokey; clearly, bikes are not omniscient deities. But I really do believe in the power of bikes to do really important things in the world. For example, bikes are a major point in feminist history. They changed the world for women by:
Giving women a freedom of movement that they didn't have before. Before bikes, if you wanted to go somewhere, you either walked or you hitched up your horse and buggy. Horses and buggies being very expensive to acquire and maintain and very physically demanding to handle, most women didn't go places.
Giving women privacy in their movements. Bikes lent themselves to cheaply and quickly going long distances without a chaperone, so that women could do God-knows-what with God-knows-whom.
Spurring clothing reform and releasing women from the prisons of corsets and mandatory sartorial haystacks. It's hard to bike in a corset. I've tried.
Normalizing women's athletics. Bikes required women to physically exert themselves in public and to set their delicate lady parts down on a phallic-shaped bicycle seat. *insert matronly pearl-clutching*
In an interesting side note, because of all these points, bikes were very sexualized. There's a long and lovely history of bicycle-themed pornography and advertisements for bikes featuring scantily clad women and women in scenarios of sexual implication, which was tremendously forward for its time. Bikes changed the world for women. I love them for that.
They still change the world. We modern folks contribute enormous amounts of our time to the quasi-religious devotions of commuting and computing. We lose track of being outside, even in the splendor of Colorado. Bikes return us to the outdoors. I love biking in "adverse weather" and feeling the rain, wind, and even snow on my body. It reminds me that I'm an animal on this planet and the protections of the built environment are only ephemeral privileges. When I'm old, I want to look back and say, "When I was young, I biked in the rain."
Bikes also connect us with our communities. Cars isolate us in mechanical bubbles, unable to interact with others. Bikes keep us in immediate contact with other people moving through the environment. I can talk to my neighbor as I roll by on my bike. She thinks I'm crazy, but I wouldn't know that if I never talked to her, would I?
I make an effort to contribute to my small, local bike shops rather than larger chains because I really do believe in this cycle-based community. Randy's Recycled Cycles and Totem Cyclery, as well as Velowood Cyclery, are all great, independent shops. The one I really want to encourage you to connect with though is Bikes Together. Bikes Together (formerly the Park Hill Bike Depot) is a non-profit devoted to promoting a better Denver through bicycles. Which is a pretty sweet mission statement, eh?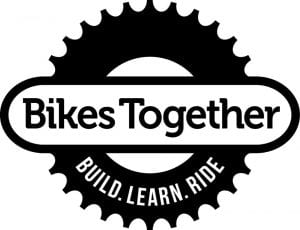 Bikes Together has two locations. I stumbled across the Park Hill location a few years ago and immediately loved them. They've got a big, open shop with a friendly storefront and a full-service mechanic area. The other location is in Mariposa, with a similar set-up and some rockin' bike parking spaces out front. What makes them different from other bike shops in town is their focus on getting bikes to people who need them. Getting kids onto bikes is a particular delight for them. They've got a program called the Bike Rodeo which connects low-income kids to a bicycle education and safety class and a free bike. They've also got two week-long bicycle summer camps for youths. If you're not a youth anymore, they also have programs to buy or earn an affordable bike. These people really do act out their conviction that bikes are important! If you don't know how to fix or maintain your bike, they have classes and open shop time for you to learn from experts and practice on your own bike, tools and bike stands provided. You can come in cold turkey, having never turned a wrench in your life and only being vaguely sure of how many wheels a bike should have, and they'll teach you how to fix whatever problem your bike's got.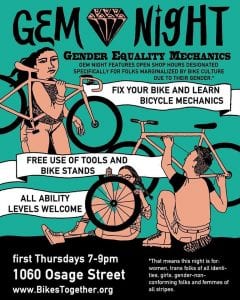 Here's the bit that really sold me on Bikes Together: They offer bike mechanic education programs specifically for women and marginalized folks. Bicycles changed the world for women and Bikes Together is continuing that powerful tradition. They're called GEM nights, "Gender Equality Mechanics," and they're specially for women, trans folks of all kinds, girls, gender non-conforming folks, and "femmes of all stripes." I've walked into many bike shops around the country and I can count on one hand the number of female mechanics I've seen. Let's teach women/femmes to take charge of our own bikes! Cycling is hard for women. We're held to a different standard of appearance and behavior, which is hard to maintain on a bike. Sweating while female is frowned upon. Women's clothing can be tricky to manage on a bike. Carrying large packs with changes of clothes and a helmet adds another layer of difficulty to manage in the workplace or even a recreational gathering. We get catcalled and harassed. (I've anecdotally noted that I get at least twice as many harassing comments when I bicycle commute in a skirt or dress than when I cycle in pants (that whole a-woman-on-a-bike-is-sexualized thing from the early advertisements hasn't gone away). Let's all of us GEM-worthy people get together and support each other and our right to cycle!
One last thing: you can support this amazing program by patronizing their shops, volunteering your time, or financially donating to them. One quick and easy way I've found is to set them up as my Amazon Smile beneficiary. Amazon Smile is a Jeff Bezos' program that donates a portion of your Amazon purchase amounts to the charity of your choice. "Park Hill Bike Depot" (Bikes Together's former name) is an option. Check it out and support your local cycling community! You may even find that the endorphin high from supporting your community and/or cycling to the top of Lookout Mountain feels an awful lot like a religious experience.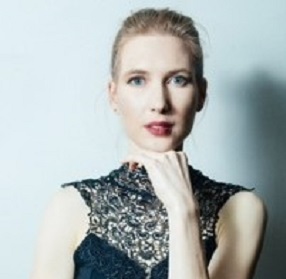 Jessie Hanson lives and works in Denver and couldn't be happier about it. Like the best-possible kind of Jekyl-and-Hyde scenario, she splits her life between science and storytelling. During the day, she performs clinical diagnostics and messes around with test tubes. At night, she performs behind the mic as a standup comedienne, in the air as a circus aerialist, and in rhinestones as burlesque dancer. She begrudges the hyper-inflated cost of a decent pair of false eyelashes. When she's not on stage, she sweating it out as an endurance athlete in triathlons and marathons across the West. She begrudges the hyper-inflated cost of a decent pair of running shoes. She's thrilled to be on board with OnDenver and writing about science, comedy, circus, athletics, and general fun on the Front Range!