Fish Creek Falls Hiking- Steamboat Springs
Fall is here, the air is crisp, and the leaves are changing quickly. This is the perfect time of year to plan a hike in Steamboat Springs. The one I highly suggest is Fish Creek Falls.
Fish Creek Falls is only 4.4 miles outside town. It is actually a 283-foot waterfall in a state park. Because this is a state park be prepared to pay $5 per vehicle or bring your state park pass. Once you park, you will have a few options for hikes- easy, moderate, hard. All hikes are dog friendly, which is great news for your furry friends. The lower falls are also handicap accessible!
Fish Creek Falls Trail is a short, moderate hike that gives you spectacular views of the waterfall. It is less than 5 miles round trip with an elevation gain of about 1400. For anyone that likes waterfalls or taking pictures, this is a great hike for you. This trail is a loop so don't worry about getting lost. Enjoy the Aspens, because they will be everywhere.
Fish Creek Falls to Long Lake is an extension of the Fish Creek Falls Trail. This is an out and back 12-mile hike that is ranked difficult. The views are breathtaking and worth it. If you intend on doing this hike, make sure you have appropriate gear and hiking shoes because it is steep. This is my favorite hike and worth the time.
A third hike you can do is called the Uranium Mine Hike. Unlike the other two hikes, the starting point for this is closer to the paying shack. This is about a 1.5-mile hike over an increase of 800 ft in elevation. As you might have guessed from the name, this trail does lead you to a mine. The mine is gated to keep people out for obvious reasons. But still nice to see a part of history. Throughout the hike you can catch views of the falls and the aspens.
After your hike, enjoy lunch in the picnic area at the base of the lower falls. All of these hikes get pretty crowded so be aware of other hikers. When you head back to Steamboat, make sure to check out some of their Brewers. I recommend Mountain Tap and Storm Peak Brewing Company. Enjoy your steamboat stay!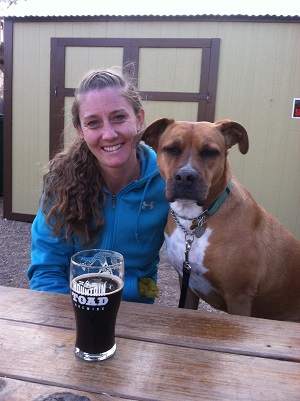 Christie is an outdoor enthusiast from Golden, Co that LOVES doing everything outside. She has an MBA with an emphasis in Sustainability from Brandeis University and a passion for helping others, which she turned into a consulting career. Whether you are looking for social media, marketing, or business strategy, Christie will help grow your business. In her spare time, she enjoys the outdoors and sharing her stories with others through blogs. Christie loves Colorado and hopes her stories help others see Colorado in a way they have never experienced before.