Faces of Denver Russell Klase, Your Neighborhood Butcher in RiNo

Russell Klase is an adrenaline junkie who seeks out thrill sports like skydiving, scuba diving, snowboarding, and creativity through art, music, and stand-up comedy.  In the kitchen, he seeks a different type of thrill and creativity as Executive Chef and Head Butcher at Butcher's Bistro and lead singer of their kitchen band, Boyz Under the Hood.
Russell became mesmerized with cooking as a child during all-day events like rubbing down and roasting a whole 200 pound hog, or watching his father theatrically prepare Steak Diane dinner, a pan-fried beefsteak flambéed with brandy. "I didn't get to see my dad very much…he always worked night shifts," Russell says, "he would make us dinner right before he would leave for work…and I never really liked the dish…but I loved watching it flame up." The opportunity of getting to play with fire charmed the budding thrillist to start experimenting as a home cook at the young age of 10, and as soon as he could legally work he took on his first job making ice cream, and at age 16 ran his first kitchen at a BBQ place.  Russell has done it all, from food trucks, mom & pop restaurants, the Kevin Taylor Restaurant Group, and corporate ski resort kitchens…he has run the gamut.
As I chat with Russell, it's obvious he has the confidence of a well-spoken, well-educated, artistic and creative chef with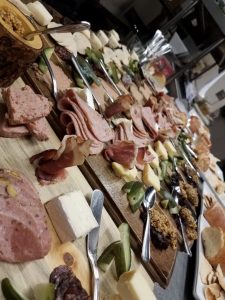 a diverse background and experience. One of his biggest obstacles over the years, though, has been his youthful looks and age. Many kitchens would pass him over or not open the opportunity to him for growth.  After attaining 2 degrees, at age 26, he stands as Executive Chef and Butcher at Butcher's Bistro, a TRUE farm to table establishment (and no exaggeration here), in the prime location of Denver's RiNo district.
Butcher's Bistro offers a heavily meat based menu, at times incorporating multiple meat sources or preparations on a single plate at one time. These are "The Meat Guys" of Denver, and even have ventured into constructing meat based desserts! Almost everything they serve here is made in-house, from pickles and kraut, to aioli, mustards, sauces, and charcuterie…it's all handmade! Butchery is the most in depth part of what they do here and it's a very hands on job. Every week Chef Klase receives and breaks down a ½ cow, ½ pig, a full lamb, and 10 chickens. He gets all his meat fresh from locally sourced farmers and ranchers in Colorado and looks for:
Sustainability
Humane treatment of animals
Locally grown animals
Flavor & appearance
Chef Klase strives to use everything on the animal, offering whole pig-heads served broken down and prepared, buffalo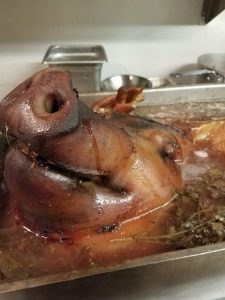 testicles, and beef jerky that is dangerously addictive.  Much of the "scraps" he is able to use in creative ways in what seems to be his pièce de résistance…his charcuterie!  Charcuterie is the preparation of cured meat, originally intended to serve as preservation before the introduction of refrigeration.  He is able to utilize nearly every bit of the meat, fat, and even skin with very little waste. To adhere to FDA regulations, he carefully ensures the proper techniques, and therefore, his charcuterie takes 6 months or longer to prepare.  Although this is a significant investment in time, Chef returns to his thrill-seeking roots as a calculated gambler, experimenting widely with flavors…and it truly pays off with some of the most creative cured meats in town. But Russell's ultimate goal for himself is to be able to express his creativity through brewing beer. Over the years, along with his father mentioned at the outset, he has experimented at length generating over 200 recipes utilizing nearly every grain, fruit, and berry you can imagine. Watch for him in the future on the horizon of the craft beer scene! Chef Klase ultimate goal is to go into business with his father and start their own Beer and Butchery based restaurant concept.
Upcoming Butcher's Bistro Events
On the Horizon for Butcher's Bistro
Ways to Support Your Local Butcher
The Meatball of All Meatballs
Enjoy one of Chef Klase's Original Recipes Inspired from His Father:
If you want these meatballs to be the most fantastic, juicy and flavorful balls you've ever had in your mouth, I highly recommend purchasing ground beef, pork and liver from our butcher counter.
Ingredients:
Meat
4.5 lb Butcher's Bistro ground beef
1.5 lb Butcher's Bistro ground pork
1 lb Butcher's Bistro ground beef/pork liver (optional)
Vegetables
2 yellow onions, diced
5 cloves garlic, minced
Dry Ingredients
3.5 T salt
1/2 T black pepper
1/4 cup brown sugar
1/2 T marjoram
1 T chili flakes
2-2.5 cups bread crumbs
Wet Ingredients
8 oz tomato paste (1/2 can)
1/2 cup Worcestershire
1/4 cup balsamic
1/8 cup Sirach (or preferred hot sauce)
4 eggs
Directions:
Preheat your oven to 350°F.
Combine Butcher's Bistro ground beef, pork and liver in a large bowl.
Add finely diced onions, minced garlic and eggs.
Mix in all dry ingredients except bread crumbs.
Blend bread crumbs into meat mixture, reserving 1/2 cup.
Mix remaining wet ingredients in a separate bowl. Slowly add the mixture 1/2 cup at a time. The meat should be very moist but still roll into balls. If too moist, add bread crumbs until desired consistency is reached.
Roll into meatballs of your desired size. I recommend meatballs about the size of a lemon.)
Heat olive oil in a cast iron skillet. Sear meatballs in batches until meatballs are golden brown.
Place meatballs on a baking pan and bake for 15 minutes.
Allow to cool and oil to drain on paper towels before serving.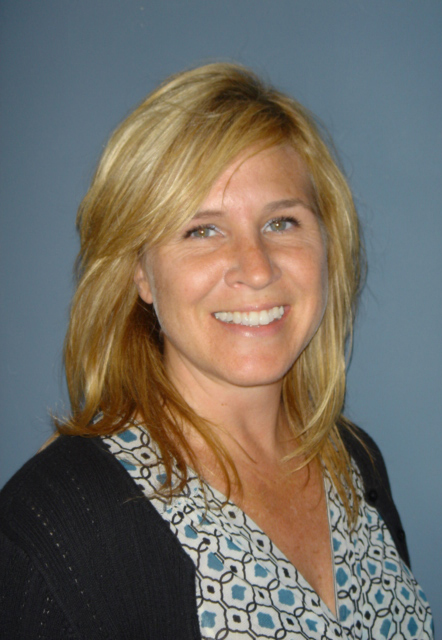 Heather is a creative writing wizard, travel guru, Elite Yelper, personal blogger, and Spartan Sprint race finisher!  After living most of her life in rural New York State, Heather quit her career and moved cross-country to Denver looking for a new and urban lifestyle.  Although, she has traveled to over 20 foreign countries, she had never before lived in a city and her last home was outside a Hamlet with only one traffic light.  Heather now exists as a well-adapted LODO Denverite who considers herself an area expert.  Moving can spin you around and spit you out, but Heather's journey proves the joy of waking up with a new city as your playground and opening up a box of discovery every day.  She has overcome setbacks, dealt with being an out-of-towner and urbanized into an individual who can easily maneuver living in Denver with thoughtfulness and skill.