Faces of Denver – David C. Lucas
Ask any landscape photographer and they'll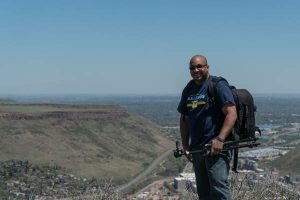 tell you there's a special connection shared by those hunting for the perfect shot. Shooting with David C. Lucas is a perfect example of this.
David is a college admissions counselor and professional photographer from Flint, Michigan. He specializes in portraiture work, however, his love of photography began and continues with landscapes. He arrived in Denver on Tuesday for a conference he was a guest speaker at. While this is his very first time in the Mile High City, David immediately fell in love with Denver, saying, "I never knew the atmosphere here would be so welcoming." Exploring Colorado took him all the way from Boulder, through Denver's City Center, and down to Colorado Springs, then ending with a quick photography trip up Lookout Mountain in Golden.
David said one the most enjoyable aspects of his jobs are all the interesting people he meets, and Denver certainly didn't disappoint him there, saying, "The people I've met here so far have been nothing short of awesome … I wasn't thinking everyone here would be so nice and awesome." David loves the fact that photographers share a common bond that creates an environment of collaboration. The artistic component of photography is exemplified by the fact that two photographers can be at the same place at the same time and produce vastly different final products. Due to this, photographers often share tricks, techniques, and locations with each other.
While David's work usually keeps him on the coast between New York and San Francisco, he's decided he'll be returning to Denver soon, although next time it will be a vacation with his wife. You can see David's work at https://dsphotomichiganllc.pixieset.com/dsphotosenicshots/