Emma Balder
Emma Balder's fiber paintings breathe new life into the smallest parts of textile waste, reassigning the fibers as a medium that functions like graphite or paint. Color, form and line work together to shape a new reality for these neglected parts. This culmination of visual elements alludes to the process of transformation: linework and form revealing the product of time, change, and new growth, while the emphasis of color and texture delineates stories of the past. By focusing on the minuscule and most often forgotten, Balder's works unveil beauty in the discarded, referencing a universal experience of transformation.
Upon earning her BFA in Painting from the Savannah College of Art and Design in 2012, Balder completed a Staff Artist Residency Fellowship at the Vermont Studio Center in 2015 and was named a finalist of the Peripheral Vision Foundation Fellowship in 2016. Her work has shown in venues such as Trestle Gallery, New York; Torpedo Factory Art Center, Alexandria, Virginia; Aqua Art Fair, Miami; The Lincoln Center, Fort Collins, Colorado; ArtHelix Gallery, Brooklyn, New York; BWAC, Brooklyn, New York; Stella Ripley Contemporary, Quebec, Canada among others. Her work has been featured in Art Maze Mag, Fresh Paint Magazine, Dialogist, Denver Life Magazine, 303 Magazine, Art Reveal Magazine, Ignant, Emboss Magazine, Peripheral Vision Press and more. Balder has facilitated fiber painting workshops throughout Colorado, including at the MCA Denver and ReCreative. Her installations have made appearances with Meow Wolf at Colorado Crush, Sonic Bloom Music Festival, Arise Music Festival, The Oriental Theatre, Stanley Arts Festival, Underground Music Showcase, and many other public and private events. The artist is
represented by Heidi Vaughan Fine Art and Stella Ripley Contemporary.
Emma Balder's solo show, Connecting Threads, is currently on view through November 23, 2019 at Heidi Vaughan Fine Art in Houston, TX. Balder will also be displaying a site-specific installation for Meow Wolf's Dark Palace from November 22-24, 2019.
More of Emma's work can be found at www.emmabalder.com and on social media
@balderthanyou.
Portraits: Paul Miller Photography
Artwork: Courtesy of the Artist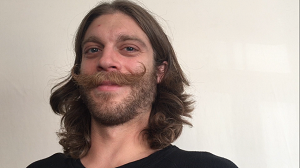 Jared is a local content contributor and aspiring author. He was fortunate enough to grow up in Golden, Colorado and graduated from MSU Denver. While an insatiable love of travel lures him all over the world, his roots remain firmly planted here. He enjoys writing short stories, poetry, children's books, societal observations, and everything else. A nature enthusiast and sunshine connoisseur, Jared is perfectly at home on any mountaintop or patio. He frequents art galleries and concerts, poetry readings and breweries, museums and bookstores. When he isn't making neighbors cringe at his musical attempts he can be found on a snowboard or sailboat, depending on the day. A perpetual adventurer and eternal patron of the road less traveled.