Denver Beer Company Takes Over Olde Town Arvada
Denver Beer Company is a staple, and their original Platte Street location was one I frequented often when I still lived downtown. Right by Commons park, with beautiful views of the city and Platte River, I enjoyed quite a few beers on their giant, open patio, sneaking off to Monkey Barrel between beers to take cheap shots of whiskey, and scarfing down a few slices of Basic Kneads pizza before the day was over.
My downtown days have since passed, and so has that beautiful view with the high-rise condo construction—the ever-changing addition to our skyline that seems to enclose all my favorite parts of the city more and more each day. Alas, I now live in Berkley, bring my daughter everywhere, and am home in time to make dinner. So, I have been patiently waiting for the opening of DBC's new location in Olde Town Arvada and am pleased to report it has not dashed expectations.
The new DBC location surely fills in many of the gaps in the up-and coming neighborhood on Olde Wads, joining the likes of New Image Brewing and Kline's Beer Hall. Like it's counterpart downtown location, the Arvada DBC boasts a big, open, dog-friendly patio, now complete with colored string lights, fire pits, umbrellas—basically, everything short of lawn games that you'd need to spend an afternoon or evening sipping on the famously named Princess Yum Yum or Pretzel Assassin. Inside, they do actually have board games and ping-pong tables, making this location fresh and family friendly, fitting in with Arvada perfectly, and easing any hesitations of bringing Scout along. The definite upgrade from the Platte location is that there is now a fixed food truck inside the taproom. The Mighty is a permanent burger joint serving up a full menu of burgers (with a veggie patty option!) and sides (fries AND tots!). Oh, and in case I ever end up here sans baby, the Arvada tavern is right around the corner to provide a classy cocktail between the rounds beer and burgers if the whiskey comes a-callin' me.
I am hoping DBC is just another of many more breweries to find their home in Olde Town Arvada—if you haven't made the short trek to this retro suburb north of dear Denver, you now have no excuse not to.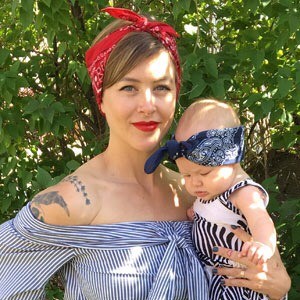 Erica Hoffmeister earned an MFA degree in creative writing and an MA in English from Chapman University of Orange. She has creative work published in the literary journals Shark Reef, Rat's Ass Review, Split Lip Magazine, and others. She has been teaching for over a decade (claiming 8th grade as her favorite grade level because she's an actual crazy person) and currently teaches composition and literature courses for Morgan Community College out of Fort Morgan. Always considering herself a bit of a beer nerd, she met her husband at Our Mutual Friend brewery while on vacation and fell in love with him, Denver, and its beer scene in one fatal swoop. While born and raised in Southern California, don't worry—she's earned her spurs as a transplant by creating her very own Colorado native. As a new mom, she is currently renegotiating her role as a world-traveling, bar-hopping, beer-loving free spirit by taking advantage of Denver's beer culture, where you can find as many babies in breweries on any given afternoon as beers on tap.