Dating Ideas That Aren't the Same Ol' Same Ol'
You connect with someone; the chat is great, and you exchange phone numbers. After a text exchange or a phone call, you finally set a first date. A first date can be exciting, so why spoil it by doing the standard dinner and a movie?
If you've been dating for any length of time, it may seem like you could go a lifetime without going on another coffee date or happy hour.  If you want to do something fun and different, there are some cool things to do that don't cost a fortune and guarantee a good time!
A twist on happy hour. Doing something fun and active is a great way to learn about your date's competitive nature and sportsmanship. Engaging in fun, exciting, and new experiences can get the dopamine and norepinephrine flowing and reward your brain! During happy hour, you can reserve a ping pong table at Ace.Eat.Serve. Or how about a night of bowling, table shuffleboard and more at Punchbowl Social?
Share a passion? Bonding over a shared interest is a great way to spend a date night. Consider a beer and cheese pairing at Joyride Brewery, a wine and chocolate pairing at The Chocolate Therapist or perhaps a whiskey tour at Stranahan's.
Take advantage of an event. There is always something happening in Denver. This fall, consider the Pumpkin Festival or Glow at the Gardens at the Botanic Gardens. Later this winter, Zoo Lights at the Denver Zoo or downtown Boulder's Switch on the Holidays, a popular event that includes live music and a count down to the lighting of the street, courthouse, and star atop Flagstaff Mountain.
Dating gives you opportunity to nurture intimacy, practice communication, demonstrate commitment and create a meaningful history together. Make it fun and memorable and you will stand out among all of the dates that were just the usual.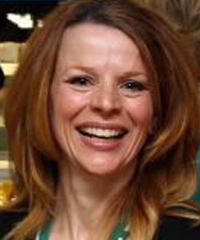 Andrea wants to live in a world where the neighborhoods are walkable, bike lanes are plentiful, and the food is fresh, delicious and readily available. A 20-year veteran of the health and wellness industry, she started her career in the fitness industry while earning a master's degree in Exercise Science and Health Promotion, and then on to the burgeoning field of worksite wellness. Andrea has competed in collegiate level soccer, worked as a personal trainer, fitness instructor, wellness coach, and master trainer, climbed 14ers, and completed cycling centuries and metric centuries. All of these experiences give her the opportunity to view well-being from many different perspectives. When she's not helping others to be their healthiest self, you can find her at a farm to table restaurant, down dogging at the yoga studio, or experiencing the Colorado landscape on a bicycle, snowshoes, cross country skis or on foot.