Core New Art Space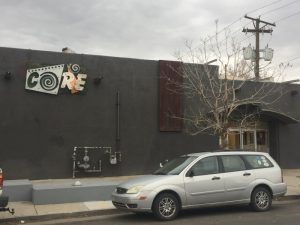 One of my favorite ways to spend a lazy afternoon is strolling through the art district on Sante Fe. The streets are lined with small studios and galleries. I love to pop in and see what's new. Usually you can find a few artists hanging around that are happy to talk about their work. I always make sure I stop by CORE New Art Space. Located at 900 Sante Fe street, it features new artists every few weeks. For over 25 years they've been providing space for artists to showcase their talent in a non-commercial setting. Their current exhibits, running through April 15th, include artists Lisa Purdy, Emmanuelle Auzias, and Jen Herling.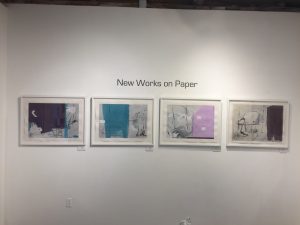 Lisa Purdy is an accomplished artist originally from Michigan. She has been influential in the Denver community since 1974. For years she worked with community organizers to help preserve historic parts of downtown. She has a BA from the University of Michigan, a MA from CU, and attended the Harvard Graduate School of Design. She's been a full-time artist since the early 2000's.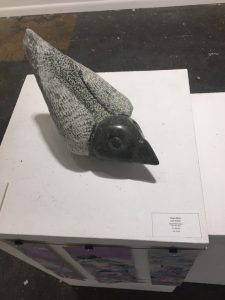 Her paintings span a variety of styles from abstracts to landscapes. While she is well known for large works using oil paints on canvas, she recently started making smaller scale paintings on paper. Her featured series focuses on abstracts done with this method. She places emphasis on the layers of the painting coming together to create the final product. Purdy also became interested in stone carvings after seeing sculptors from Zimbabwe. She took classes with them and learned the craft using only hand tools. Two of her stone carvings depicting birds are on display with her paintings. Purdy has been featured nationwide including at the Governor's Office, DIA, and in many private collections.
Emmanuelle Auzias is an artist from southern France. She began painting figurative depictions of the human body, but eventually moved on to more abstract works. She likes to focus on emotional expression through color and texture. These two themes are prominent in her current display titled Turquoise Variations. Each painting aims to evoke a personal connection between the artist and the audience and to project a therapeutic feeling. She has another series on display consisting of five collages called Chronicles of the Chained Duck. They feature French comics satirizing current American political events. English captions are provided alongside for those of us who have been slacking on our Duolingo goals.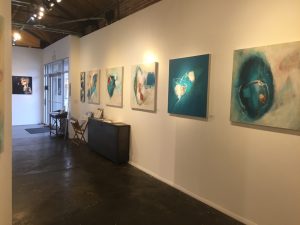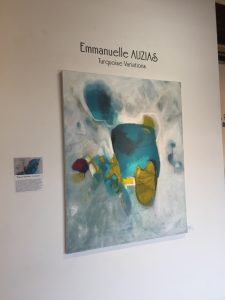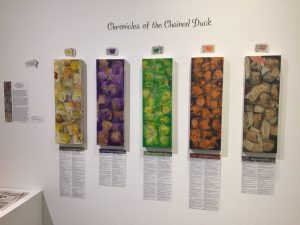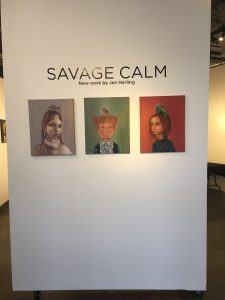 Jen Herling is a welcome and relatively new addition to the Denver art scene. She holds a BA from the University of Maryland in Performance Art, but made the jump to visual art a few years ago. Her works explore the separation between the natural world and the human perception of the world. Her paintings have a surreal, dreamy feeling. They depict child-like figures with emotive faces and somewhat abstract backgrounds. She has a really interesting way of blending different styles. Her featured series, Savage Calm, has an underlying dark feeling. The paintings include portraits of girls with animals perched on their heads, as well as children frozen in never ending falls through space. The chosen positions of the falling bodies and the emotions on the subjects' faces are particularly captivating.
CORE is a really welcoming place that makes contemporary art accessible to the general population. You don't need to be an art aficionado to enjoy it. They provide an independent venue that promotes art awareness and education in the community as well as a much needed space for local artists to showcase their talent. They work with dozens of artists to keep the exhibits constantly changing and featuring a wide variety of art forms. Whether you're window shopping or actually shopping, stop into CORE.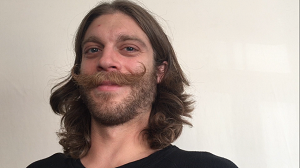 Jared is a local content contributor and aspiring author. He was fortunate enough to grow up in Golden, Colorado and graduated from MSU Denver. While an insatiable love of travel lures him all over the world, his roots remain firmly planted here. He enjoys writing short stories, poetry, children's books, societal observations, and everything else. A nature enthusiast and sunshine connoisseur, Jared is perfectly at home on any mountaintop or patio. He frequents art galleries and concerts, poetry readings and breweries, museums and bookstores. When he isn't making neighbors cringe at his musical attempts he can be found on a snowboard or sailboat, depending on the day. A perpetual adventurer and eternal patron of the road less traveled.