Collidoscope at Pearl's/Your Mom's House
The better the band, the later they play.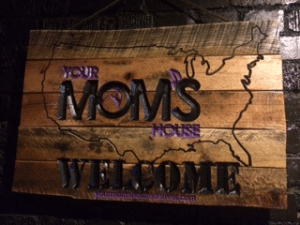 This sometimes-inconvenient reality dictated that the band I was going to see didn't start until, technically, the day *after* the date stamped on the ticket. I found myself shivering on an ice-caked sidewalk at half past midnight, clutching a ticket and thinking seriously about the wisdom of late-night shows after the age of 30.
The sidewalk was outside Pearl's/Your Mom's House, a bar/music venue that opened just about a year ago in Capitol Hill. A guy with multiple facial tattoos checked my ID ("Reynaldo" on the cheekbone and "Gucci" above the eyebrow? Really? I'm not sure if that's badass or pantywaist.) and I stepped into Pearl's. I'd never been to the place before, but I've been following a band called Collidoscope for just about as long as Your Mom's House has been open. Collidoscope's shows have been getting later and later.
Pearl's and Your Mom's House are actually a pair of conjoined twins. Pearl's is a bar, with full alcohol service and a pikachu (?) in a jar. The ceilings are high and the walls are covered with art (you can buy it) and darts (you can throw them). It's a fun space, in the same vein as other Cap Hill venues. You can get a drink (Mile High Spirits sponsors $6 cocktails during shows!) and a pair of ear plugs at the bar, then step through the double doors into the other twin, Your Mom's House.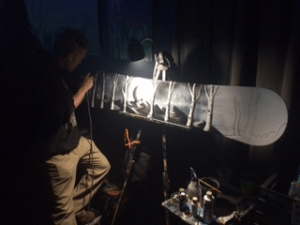 YMH is where the magic happens. YMH has lasers. There's a great lighting-and-laser effect that explodes off the stage and covers the audience with dapples of color and energy. There's a guy airbrushing a black-and-white painting onto a snowboard. There's tables selling swag. There's young and beautiful people swaddled in a disappointing amount of winter clothes.
Collidoscope is a trio of dudes (two music nerds and a man-bun in a button-down) playing their hearts out on keys, drums, and guitars, with occasional guest appearances by trumpet and talk box. They had already started their set when I arrived and the sound was rocking out, but the volume was not so overpowering that it was painful. I still used my earplugs and was happy to have them. I follow Collidoscope because they have a different sound than anybody else I hear on the local scene. I'm not a big fan of electronic music, but Collidoscope layers the electronic into a musical burrito with funk and jam and then smothers it with live-band energy and tops it off with big dollop of fun. It's just great. Their energy floods off the stage and all three guys play with giant grins beaming off their faces.
Drinks and bands aside, the one thing that defines an enjoyable live-music experience is bathroom access. I didn't really need to explore the P/YMH bathroom offerings, but for you, dear reader, I investigated. Pearl's has two unisex bathrooms. There's always a line; don't expect there not to be. The walls are black and well-graffitied. The floors are dry and the TP dispensers work. (This might seem like low bar, but if you've spent any time in low bars, you understand the rarity and importance of the convergence of these two things.) YMH also has two ladies-only bathrooms tucked into a corner. This is a splendid idea and I strongly endorse all other venues adopting extra women's bathrooms.
Pearl's/Your Mom's House is a groovy little music venue and they've got some great shows coming up that are all worth seeing. But it's the quality of the band that really makes a venue come alive. Collidoscope has more shows in the works, too (next one is April 6 at the Fox Theater in Boulder). Look for me there; I'll be the tall blonde in the back, wearing earplugs and drinking gin.
(Conclusion: Late-night shows after 30 are AWESOME!)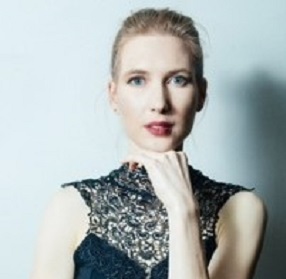 Jessie Hanson lives and works in Denver and couldn't be happier about it. Like the best-possible kind of Jekyl-and-Hyde scenario, she splits her life between science and storytelling. During the day, she performs clinical diagnostics and messes around with test tubes. At night, she performs behind the mic as a standup comedienne, in the air as a circus aerialist, and in rhinestones as burlesque dancer. She begrudges the hyper-inflated cost of a decent pair of false eyelashes. When she's not on stage, she sweating it out as an endurance athlete in triathlons and marathons across the West. She begrudges the hyper-inflated cost of a decent pair of running shoes. She's thrilled to be on board with OnDenver and writing about science, comedy, circus, athletics, and general fun on the Front Range!