Christine Rose Curry
A Colorado native, Christine Rose Curry is a professional painter & muralist. Her home and studio are in the historic town of Louviers. She has a BFA with painting emphasis from the Metropolitan State University of Denver. To date, she has created several public murals, and her paintings have been shown throughout the Denver area. She's also an associate member at EDGE Gallery.
Artist statement:
Curry's acrylic paintings engage the viewer with some form of narrative or dark humor by telling a story or conveying a certain message. These narrations range from social, political ideas to environmental destruction, and pollution. Her most recent series, "Ruination," explores the extreme impact of single-use, and non-recyclable plastics on the environment and wildlife. The series visually conveys the destruction of our natural environment through painted imagery, and actual "plastic trash" incorporated into the artworks. You can see "Ruination" at EDGE Gallery through July 21st.
To find more about the artist:
Website: https://www.ChristineRoseCurry.com
Facebook: https://www.facebook.com/Art-By-Christine-Rose-Curry-173181736053515/
Instagram: https://www.instagram.com/ChristineRoseCurry/
EDGE Gallery: http://www.edgeart.org/associate-members/christine-rose-curry/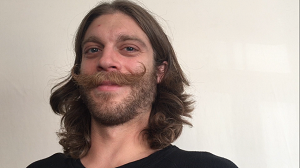 Jared is a local content contributor and aspiring author. He was fortunate enough to grow up in Golden, Colorado and graduated from MSU Denver. While an insatiable love of travel lures him all over the world, his roots remain firmly planted here. He enjoys writing short stories, poetry, children's books, societal observations, and everything else. A nature enthusiast and sunshine connoisseur, Jared is perfectly at home on any mountaintop or patio. He frequents art galleries and concerts, poetry readings and breweries, museums and bookstores. When he isn't making neighbors cringe at his musical attempts he can be found on a snowboard or sailboat, depending on the day. A perpetual adventurer and eternal patron of the road less traveled.