Blow it for Burrow—Tank for Tua—Hurl for Herbert
In a battle against the Cleveland Browns two weeks ago, the Denver Broncos (3-6) won the game but lost ground in the race to secure a top pick in next year's NFL Draft.  But with a rookie quarterback and facing a difficult remaining schedule, look for Denver to battle it out with the Miami Dolphins, Cincinnati Bengals, and others at the bottom of the league for the potential top prize.
Whether Denver goes winless the rest of the season and manages to secure the top pick or wins a game or two and finishes with a top-ten selection, here is how Denver's draft will go, no matter where they land.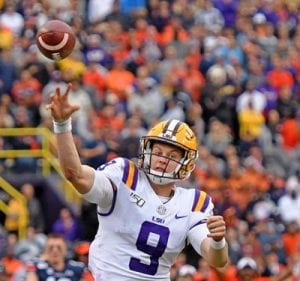 First Pick – Joe Burrow QB/LSU  The good news is if the Broncos end up with the first overall pick in the 2020 NFL draft, their quarterback issue will be taken care of with the addition of Burrow.  The Ohio State transfer is the Heisman favorite with his 33 TDs and only 4 INTs.  Burrow's size, speed, accuracy, and big game performance over Alabama will be too much for Elway to pass on.  The bad news is that if Denver ends up in this spot, the season has gone horrifically wrong.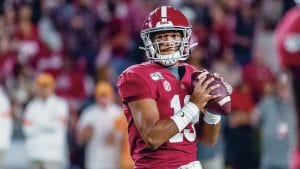 Second Pick – Tua Tagovailoa QB/Alabama  A possible scenario is that the Ohio product Burrow goes first overall to the Cincinnati Bengals (0-9), and Denver ends up with the second pick in the draft as Washington (1-8) and Miami (2-7) accidentally win more games than the Broncos.  Tagovailoa (31 TDs/3 INTs) would have easily been the number one pick in the draft in injuries weren't a concern.  Elway would have no choice, despite of the injuries, to select Tua at number two.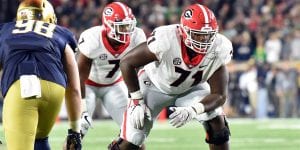 Third Pick – Andrew Thomas OL/Georgia  The reality is that Tagovailoa is probably still available at spot number three as Cincinnati takes Burrow, and the Washington Redskins, who drafted quarterback Dwayne Haskins with 10th overall pick last year, take Ohio State DE standout Chase Young.  But assuming both quarterbacks are gone, look for Elway to finally address the offensive line despite some decent quarterbacks still in play.
Fourth Pick – Chase Young DE/Ohio State  The perfect storm for Denver at pick number four is that Cincy takes Burrow, Miami takes Tagovailoa, Washington takes Young, and Denver gets the top offensive lineman in the draft in Thomas.  But if Washington decides to go offensive lineman instead, the Broncos will be in a "Bradley Chubb" situation again of having to select Young if he happens to drop to four.  Selecting Young would allow Denver to shop Von Miller, and potentially gather draft picks and cap space for the future.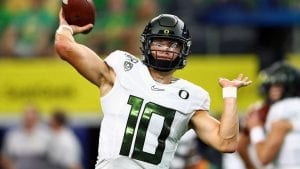 Fifth Pick – Justin Herbert QB/Oregon  With the four players named above all gone and a few teams looking to jump in to grab their next franchise quarterback, Elway rolls the dice on Herbert at pick number five.  Herbert has been overshadowed by Burrow and Tagovailoa, but at 6'6 and with 24 TDs and only 2 INTs, Herbert is the perfect Elway…next try.
Sixth Pick – Jeff Okudah CB/Ohio State  It's very possible that a team moves up in a trade with the Arizona Cardinals, Washington Redskins, or NY Giants in order to get the third best QB available.  That would leave Denver with a best-player-available situation and a team can never have enough cornerbacks.  With Chris Harris Jr. in question, Bryce Callahan often-injured, and a strategy of defensive first, Okudah would fit nicely here.
Seventh Pick – Jerry Jeudy WR/Alabama  Elway is so excited at the notion of the talented Jeudy teaming up with Courtland Sutton that he completely forgets that he has no quarterback to throw them the ball, or offensive line to provide enough time for them to get open.  But in typical Elway fashion, he'll figure that out later.
Eighth Pick – Tristan Wires OL/Iowa  The second best offensive lineman in the draft would provide support to Dalton Risner and provide an answer to 40% of Denver's offensive line problems.
Ninth Pick – Derrick Brown DL/Auburn  A Vic Fangio defensive pick.  A run-stopper that can push back the offensive line, allowing Miller and Chubb a chance to do their thing.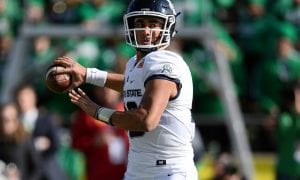 Tenth Pick – Jordan Love QB/Utah State  Can't you just see it: too high a spot for the next available offensive lineman and desperate for a quarterback, Elway doubles-down on his inability to scout quarterback talent by drafting the athletically gifted but often struggling (11 TDs/12 INTs) QB out of the mountain west.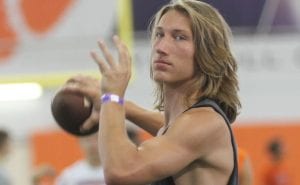 For what it's worth, with as many as six quarterbacks projected to be drafted in the first round, if the Denver Broncos decide to wait until 2021 and target Clemson QB Trevor Lawrence, they may be the only team left on the board in need of a quarterback.  Lose for Lawrence?  Win never for Trevor? Fail bigtime for Sunshine?  Risky. But at least it's a plan.
Images via nypost.com, theadvocate.com, honolulustaradvertiser.com, 247sports.com, cbssports.com, mountainwestwire.com, democraticunderground.com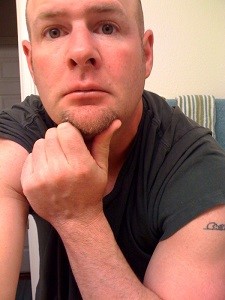 Alan Tapley is an educator, author, and blogger who has lived just outside of Boulder for the last twenty years.  His published work includes two novels, two children's books, a series of cartoons in the Minneapolis Star-Tribune, and multiple sports related articles. His love for family and the state of Colorado is only matched by one thing, his passion for sports.  The first baseball game he ever attended was at Wrigley Field, before there were lights.  At the final Bronco game at the old Mile High, he allegedly cut out a piece of his seat in the South stands.  But regardless of being here for the Avalanche's last Stanley Cup, the Rockies only World Series appearance, and all the Broncos' Super Bowl Victories, his wife never fails to remind him that he wasn't at the University of Colorado in 1990, like she was.  The year the Buffs football team won the National Championship.