BITES WITH BLONDIE: The Harvest Party- Healthy Eats on the Street
Let's face it – as a foodie, I have been to my fair share of events. From Yelp events and food truck rallies to ramen competitions and burger pop ups, I've seen and done it all – at various restaurants, venues and locations all over the city.
Or so I thought.
Have you ever been to an event hosted in a community garden, had freshly prepared ingredients picked from said garden and cooked right in front of your eyes?
SAY WHAT.
What about an event that showcases the hard work of residents and students, provides guests with healthy food knowledge and creates the true food-to-table experience?
ME EITHER.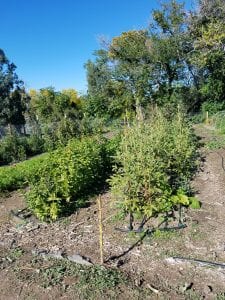 Wanting any excuse to get out of the suburbs and onto the streets of Denver, I jumped at the opportunity to cover The Harvest Party – a unique event hosted by the nonprofit, Groundwork Denver in sponsorship with Yerba Mate Tea. Part of Guayaki's "Come to Life" event series, Guayaki chose Colorado for a number of reasons with the goal to show how communities, ecosystems, and people can do more than sustain, but go beyond to regenerate and thrive. With my husband in tow, we headed for Sister Gardens at Aria in Sunnyside, to check out this little event with a whole lot of heart.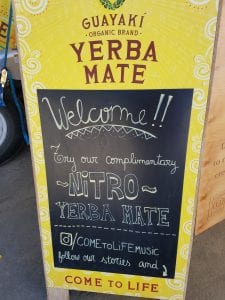 Located off 52nd and Federal in the Aria complex, sits Sister Gardens, a space and idea started by Groundwork Denver to help raise health awareness with delicious ingredients for residents in the community. With the perfect view of the snow-capped mountains, the Aria complex is small but provides just enough space for the overflowing, fruitful garden.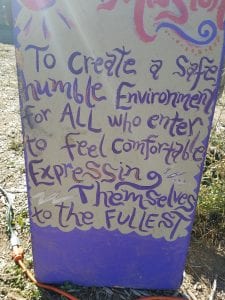 With the entrance to the event adjacent to the parking lot, we parked the car and were greeted by three teenagers, each boasting a huge smile. After offering us food and drink tickets for a mere $3, we made our way through the crowd to soak in the experience.
A sidewalk lined with booths was first to explore, each one being different from the next.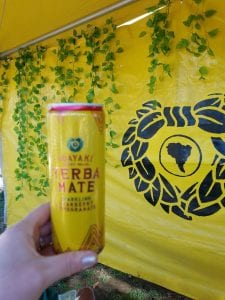 Featuring fresh organic dishes, local artisan crafts, small business owners and Yerba Mate canned tea, each booth offered genuine conversation, and a creative approach to being healthy.
I immediately gravitated to Cibo Meals, a cute little booth showcasing the various recipes and meals offered in mason jars. Owner Emily Green shared her inspiration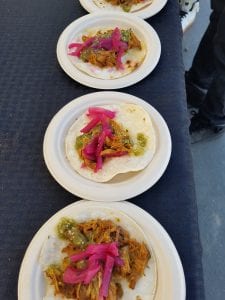 behind the idea and offered me $5 off my first order for simply speaking to her.
Three additional food booths were up next! With ingredients fresh from the garden, the first booth featured a small falafel gyro, which was perfect in size and flavor, and only 1 ticket to purchase. The second, served up the most delicious street taco on a corn tortilla, loaded with chicken, cabbage, tomatoes and onion with savory sauce on top! A true farm-to-table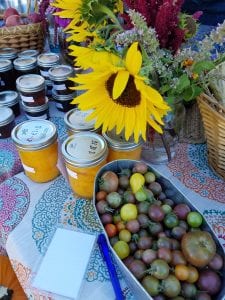 experience! Each booth was local to the area, praised the Groundwork Denver organization and spoke highly of its famed garden.
With my cravings met, we stepped into the garden to see its glory and check out the live music.  The garden, spread over a few acres, was filled to the brim with fresh vegetables,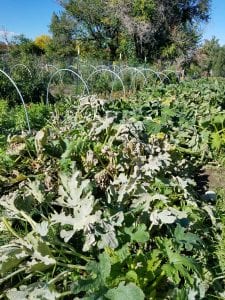 fruits, flowers, pumpkins and lush greenery – the perfect photo op and venue for the community to come together. Different sections throughout the garden guided us through the variety of crops grown and locals that help to maintain it, while ending at a unique rock circle. Equipped with a stage, dance floor and cozy space to drink tea, the outdoor venue was friendly, inviting and exuded a sense of Zen.
After sipping cold brewed tea from the Yerba Mate keg, we listened to reggae infused Billy Joel songs, eventually turning to the drummers on stage to witness a traditional drum circle ceremony. Many guests started dancing, singing and swaying with the beats, creating an outdoor concert experience.
Just beside the garden was an additional booth, offering samples of freshly picked apples, canned fruits, vegetables and pumpkins for purchase, and the most gorgeous sunflowers!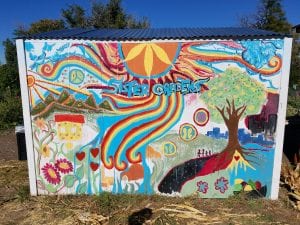 My husband and I left the event humbled at the mission behind Groundwork Denver and in awe of the space the community has built. Each member has their own unique role and ranging responsibilities. Some provide donations to local shelters or sell fresh ingredients to local restaurants, while some help to educate the community on healthy food choices and options available. The organization has even enlisted Regis University students to help plant seeds and maintain the garden for school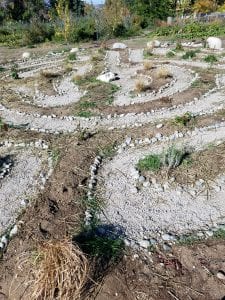 credit.
The Harvest Party not only introduced me to a different part of town but also invited me into a tight community that cultivated a sustainable food source, inspires other communities to do the same and educates others of the importance of nutritious, home grown food.
What started as just another fall food event left me with more than just a full stomach – a full heart.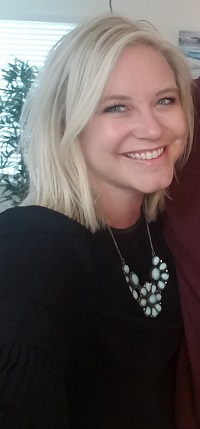 Katie traded in her flip flops for hiking boots at age three when her family moved from sunny Florida to even sunnier Colorado.  Katie's passion for food began at an early age when she would retrieve a strip of bacon from the counter each morning - a daily treat from her nanny.  That was only the beginning for her love of food.  After graduating with a degree in Communications (with an emphasis in Public Relations), she got her foodie start as Yelp Denver's first intern and has been scouting places to nosh all over Denver since.  For the past 9 years, Katie has maintained Yelp Elite status and made lasting relationships with local business owners, while continuing to be an avid food consumer and writer.  Her latest cravings and discoveries are frequently documented on her Yelp page.  Katie is known for her unique and witty writing style, obsession with avocados, and is considered the go-to girl when it comes to finding a place to dine.  When she's not finding a way to quit her day job to be the next Guy Fieri, she can be found slinging balls on the golf course, binging on true crime podcasts or indulging at a local brewery in the burbs.  Look for her work each 
Friday
 under Bites with Blondie.