Bites with Blondie: Denver's Love Affair with Cheese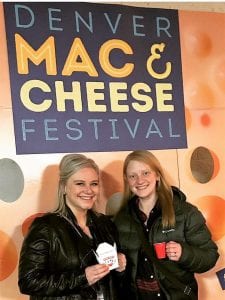 Real talk.
I think it's safe to say we all were a little bummed when Whole Foods Market announced they were discontinuing their Mac & Cheese bar at their Colorado locations. But why, Whole Foods? The classic dish, which started in Italy, quickly became an essential meal for every young American, and still remains a popular menu staple at restaurants across the country.
But this isn't your average Mac & Cheese anymore.
Denver chefs have said goodbye to processed cheeses like Velveeta and introduced diners to a new and improved hand-crafted dish, filled with more than just fresh cheese. Eateries now take a creative approach to design a dish so gooey, so unique, and so delicious that no one can resist it. Hell, we even host festivals completely devoted to the dish. No, really!
Being a fan of any festival where I can gorge myself, I jumped at the opportunity to cover Denver's Annual Mac & Cheese Festival. This sold-out festival, hosted by 11 Creative, captured well over 200 attendees anxious to experience fifteen local restaurants as they competed for the title of "Best Mac & Cheese". A multitude of breweries and distilleries and local artisans and designers also joined in the fun, allowing all festival-goers to drink and shop local. With my photographer in tow, we headed to Number 38 to consume as much cheese as humanly possible—a challenge I happily accepted.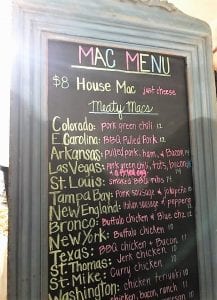 Located in the famed River North Art District, Number 38's extensive grounds were perfect for such an occasion. Primarily outdoors, the space was laid out well, allowing the crowd to easily maneuver through, and seek shelter in, an industrial garage building, which I took advantage of on the cold evening. Upon entering the gates, we were greeted with smiles from our hosts and given a commemorative Spork, a tasting glass with one voting ticket, and a complimentary beer. With the smell of cheese in the air, my palate started to awaken and tummy began to grumble. With fifteen different chef masterpieces to taste, I got even more excited to see who would be crowned Denver's Mac & Cheese King.
WINNERS: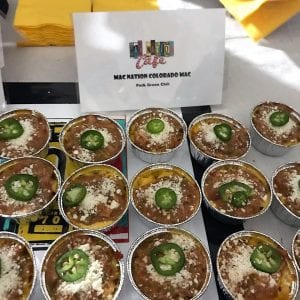 Judge's Choice: Catering by Design – a local catering company, won the coveted award for their insanely delicious Potato Leak Mac & Cheese. The creamy mixture of white cheddar cheese, smooth potatoes and leeks, garnished with a crisp blue potato, won me over and the judges.
People's Choice: Mac Nation Café – the family- owned and -operated joint, located in the foothills, stole the show with their perfectly crafted Mac & Cheese. The "Colorado" Mac, one of their 32 Mac options on the menu, featured pork green chili, a blend of cheeses, and was garnished with a spicy jalapeno. The people have spoken, and for good reason!
With my cravings met, we spent time perusing a variety of booths showcasing their outdoor apparel for sale, talking with fellow cheese lovers, sampling brews from Crazy Mountain Brewery , Ironton Distillery, and tasting the first local wine made from lemons. The music provided by the DJ was loud and perfect for the occasion, which created a party-like atmosphere. With various bars stationed throughout the event, no attendee went thirsty. Each cocktail on the menu featured a clever name, a fun juice or soda mixture, and a delicious garnish.  I chose to sip on the uniquely-named "mac-tini", featuring local vodka on the rocks with a cheeseball garnish, which warmed my chilled body right up!
Having been to my fair share of foodie events in Denver, this was by far my favorite.  All cheese-heads united in solidarity to sample the chef-inspired twists on an American classic, while shopping and drinking local. With outstanding events all year round, Creative 11 sure knows how to throw one hell of a party. Thank you Creative 11 and the talented restaurants who indulged us in this cheesy, delicious experience.
Mac & Cheese Fest, you look Gouda in Denver and I can't wait for next year!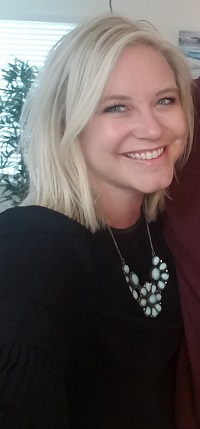 Katie traded in her flip flops for hiking boots at age three when her family moved from sunny Florida to even sunnier Colorado.  Katie's passion for food began at an early age when she would retrieve a strip of bacon from the counter each morning - a daily treat from her nanny.  That was only the beginning for her love of food.  After graduating with a degree in Communications (with an emphasis in Public Relations), she got her foodie start as Yelp Denver's first intern and has been scouting places to nosh all over Denver since.  For the past 9 years, Katie has maintained Yelp Elite status and made lasting relationships with local business owners, while continuing to be an avid food consumer and writer.  Her latest cravings and discoveries are frequently documented on her Yelp page.  Katie is known for her unique and witty writing style, obsession with avocados, and is considered the go-to girl when it comes to finding a place to dine.  When she's not finding a way to quit her day job to be the next Guy Fieri, she can be found slinging balls on the golf course, binging on true crime podcasts or indulging at a local brewery in the burbs.  Look for her work each 
Friday
 under Bites with Blondie.