Biking from Denver to Golden on the Clear Creek Trail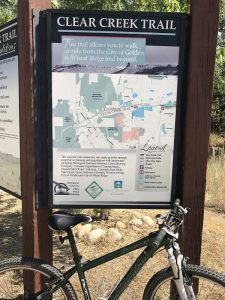 Are you in Denver and you want to do something fun this weekend, but you do not want to drive? Did you know you can bike from Denver to Golden using the Clear Creek Trail? This trail is great to have a nice relaxing ride and the best part is, there is beer on both ends of the trail!
The Clear Creek Trail is a well-kept wide bike path extending 20 miles. The end points are Platte River Trail north of I-76 in Welby and US 6 in Golden. Throughout the ride you will pass through Adams county, Denver County, and Jefferson County. This trail is mostly concrete and well kept. There is a small break I the trail at 52nd and Gray St. During this short gap, you will be on a residential road.
Bring some snacks or a picnic because there are plenty of beautiful parks to stop at along the ride. Not only do you get to enjoy the greenery of the parks, but you also will be riding along Clear Creek. So, you could even stop and fish if you wanted! This is a popular trail, so be on the lookout for bikers, runners, dogs, walkers, and kids. The best part is, there is plenty of shared along the trail, so you don't get too hot! Get your workout going uphill to Golden and feel the breeze in your hair on the way back down to Denver.
When you get to Golden, if you did not picnic along the way, go to D'Deli to get one of their delicious sandwiches. If you are ready for a beer, get your sandwiches to go and walk down the street to Barrels and Bottles. Barrels and Bottles makes their own beer, has guest taps, has a large selection of wine, and makes delicious wine slushies! When you are finished, head back down to Denver. If you are looking to go to Prost, jump off the trail at Pierce St and zigzag your way on the roads.
Have a great ride, take your time, and wear your helmet! I hope you enjoy this trail as much as I do.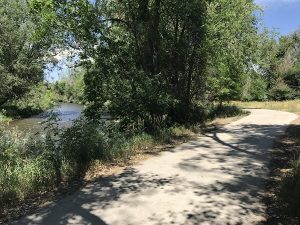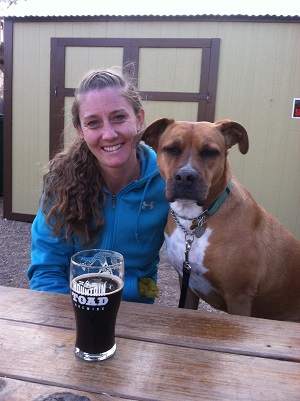 Christie is an outdoor enthusiast from Golden, Co that LOVES doing everything outside. She has an MBA with an emphasis in Sustainability from Brandeis University and a passion for helping others, which she turned into a consulting career. Whether you are looking for social media, marketing, or business strategy, Christie will help grow your business. In her spare time, she enjoys the outdoors and sharing her stories with others through blogs. Christie loves Colorado and hopes her stories help others see Colorado in a way they have never experienced before.