Barbara Baer, Gary Manuel, and Rob Watt at Spark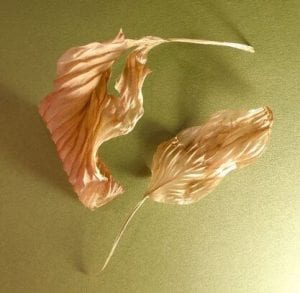 Spark Gallery has long been a place to find cutting edge contemporary art from a diverse group of local artists. Their exhibitions feature works in sculpture, drawing, painting, collage, found objects, installation, and much more. Opened in 1979, Spark is Denver's oldest artist-owned cooperative gallery. They host rotating shows from members and guest artists, typically displaying three shows at a time. Currently on display are new works from Barbara Baer, Gary Manuel, and Rob Watt.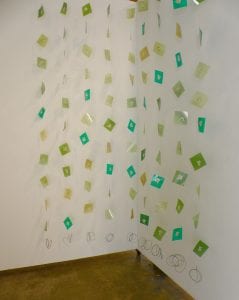 Barbara Baer is an installation artist and a resident member at Spark. She holds a BFA from Tulane University, and an MFA from the University of Colorado in Boulder. Baer specializes in large scale sculptures, usually crafted from plastic and metal. She's fascinated with spatial design and interactions between her creations and light. Her works are frequently mobiles, with colored plastic shapes that float softly, illuminated by natural light. Her current exhibition is titled, Planted, and focuses on trees and other things that grow from the earth. The installation showcases some local flora, featuring images of flower blossoms and leaves from around the city. Baer's works are part of numerous public and private collections worldwide. She's been commissioned to build large public installations in Germany, New Zealand, Japan, and throughout the U.S.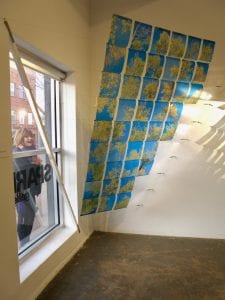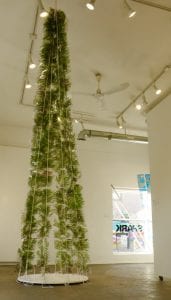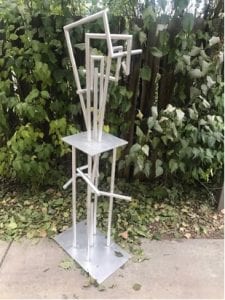 Gary Manuel is a sculptor specializing in metal and wood creations. Originally from Louisiana, he graduated from the University of New Orleans and was a founding member of the studio Sculpture Guild. In 2011, after a career in the custom cabinetry business, he moved to Colorado to enjoy retirement and be closer to family. He now builds his sculptures in his home studio and is a member artist at Spark. Manuel combines the warm, organic feel of wood with the sharp, hard properties of metal. Spheres, angles, and circles are prominently featured in his designs. His works include free standing, wall, and pedestal sculptures in a variety of sizes and colors. For his latest series, Turning, Manuel gravitates more towards metal as a medium. These sculptures feature geometric shapes, complex tubular arrangements, orbs, and spirals melded into abstract, figurative forms.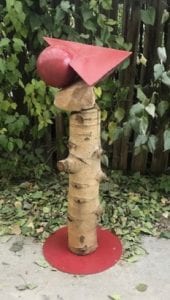 Rob Watt is a local artist specializing in fiber arts. He lived in Denver for years, and his work was exhibited at many local art galleries, but he recently relocated to Colorado Springs. His current exhibition, Embroidery, is on display in the North Gallery. The series features incredibly intricate embroidery works, mostly depicting landscapes. Watt has a remarkable way of wielding a needle like a paintbrush, making this a must-see.
Spark is located in the heart of the Santa Fe district at 900 Santa Fe Dr. They have four decades of experience showing exciting exhibitions from some of Denver's most highly anticipated artists. This should be the first stop on your First Friday walk. You can see works from Barbara Baer and Gary Manuel from November 21st thru December 15th. Gallery hours are Thursday 12-5 pm, Friday 12-9 pm, Saturday 12-5 pm, and Sunday 1-4 pm. For more info visit sparkgallery.com.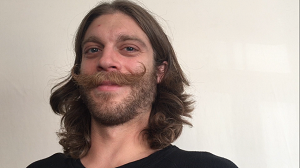 Jared is a local content contributor and aspiring author. He was fortunate enough to grow up in Golden, Colorado and graduated from MSU Denver. While an insatiable love of travel lures him all over the world, his roots remain firmly planted here. He enjoys writing short stories, poetry, children's books, societal observations, and everything else. A nature enthusiast and sunshine connoisseur, Jared is perfectly at home on any mountaintop or patio. He frequents art galleries and concerts, poetry readings and breweries, museums and bookstores. When he isn't making neighbors cringe at his musical attempts he can be found on a snowboard or sailboat, depending on the day. A perpetual adventurer and eternal patron of the road less traveled.