Baere is Makin' Noise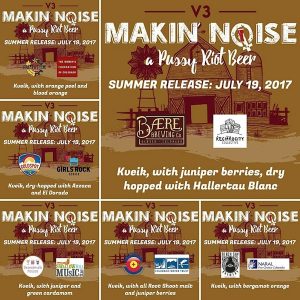 It's that time again: the Makin' Noise summer tap over is here! This time, the Pussy Riot beers are all kveik style farmhouse ales, all using the same strain of Norwegian Farmhouse yeast, but with different outcomes for each beer brewed. Collaborating for this series are Factotum, Goldspot, Grandma's House, Black Sky, Bare, and Colorado Plus, which all tapped between this past Wednesday the 19th and tomorrow, Saturday the 22nd and are pouring as long as they last. As usual, each of the six participating breweries has selected a charity of choice with $1 of each full pour donated to their designated charity.
In case you were wondering, kveiks are traditionally brewed farmhouses, using a propagated single yeast strain preserved and reused for generations. Though today's methods slightly differ due to the little knowledge we have, the use of kveik yeast has been growing more popular here in the states. Perhaps this is why it was a unique, yet customary tradition that was chosen to set the stage for the next series of beers to be collaboratively brewed by Denver's progressive, activist-driven team of female brewers.
I decided to begin my tour through the V3 breweries at Baere Brewing. Baere's Makin' Noise kveik is brewed with juniper berries, and dry hopped with Hallertau Blanc. The charity they have chosen is the wonderful Reciprocity Collective: an organization which helps to bridge the gap between community and non-profit businesses in order to guide those struggling with homelessness and poverty to sustainable employment. In a city that struggles to contain a homeless epidemic that seems to worsen with the city's rapid urban growth and gentrification, organizations like The Reciprocity Collective are much needed and well-appreciated, and we love that Baere and has chosen to pair up and make a difference. The beer itself is surprisingly clean and crisp, settling at 4.3% and making it the perfect brew for a hot summer day. I couldn't just try one beer there, of course, knowing how damn good Baere's beers always are. Their Totes Redux New England inspired IPA avoids the hazy craze and was instead smooth, not bitter, and not overtly citrusy, chiming in at 7%. Personally, these seemingly scheduled afternoon storms have me craving sessionable stouts, and I ended my Baere experience sipping on their signature stout on the front porch, watching the rain fall. At only 6.5%, it was perfect: straightforward and simple, balanced and not aggressive in either the usual coffee or chocolate that I prefer to save for the colder months. Baere never disappoints and I am happy to have begun the newest V3 adventure tour here. (Sidenote: Baere has my favorite merch in town–baseball jerseys. They also have onesies, hoodies, tanks and tees. Yes, to all, please).
Join me in trying all six of the Makin' Noise Pussy Riot kveiks and compare notes between them at each and every brewery–all for great causes!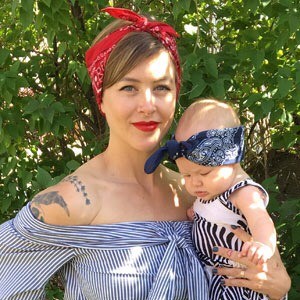 Erica Hoffmeister earned an MFA degree in creative writing and an MA in English from Chapman University of Orange. She has creative work published in the literary journals Shark Reef, Rat's Ass Review, Split Lip Magazine, and others. She has been teaching for over a decade (claiming 8th grade as her favorite grade level because she's an actual crazy person) and currently teaches composition and literature courses for Morgan Community College out of Fort Morgan. Always considering herself a bit of a beer nerd, she met her husband at Our Mutual Friend brewery while on vacation and fell in love with him, Denver, and its beer scene in one fatal swoop. While born and raised in Southern California, don't worry—she's earned her spurs as a transplant by creating her very own Colorado native. As a new mom, she is currently renegotiating her role as a world-traveling, bar-hopping, beer-loving free spirit by taking advantage of Denver's beer culture, where you can find as many babies in breweries on any given afternoon as beers on tap.