Avalanche Update – Exceeding Expectation
It feels like just yesterday we were starting the 2017-2018 NHL season. The question marks for the avalanche were seemingly endless. Would this team bounce back from a horrible year? Should we even expect them to win that many games? Surely they will be in the running for this years 1st overall pick at the draft for the highly touted Swedish defenseman Rasmus Dahlin. We are now officially at the end of November and have passed the 20 game mark. A mark that, statistically speaking, says what you have in your team. Well folks, the Avs are currently 11-9- 2, two games above .500. The season is still early, so getting over hyped is always a scary thing, especially when all it takes is one bad stretch of games in the NHL to end up in the bottom 10 at this point of the year. We cannot forget that this is a "development" year. Meaning, the whole point and goal to this season is to see what the Avalanche have in their young players and to establish who stays in the lineup as well as working to improve their game.
While it is a development year, we have experienced much excitement. From what we have seen, this team has exceeded expectations early and gotten more from their younger players than we ever thought. Players like Alexander Kerfoot have come out of nowhere to play a significant role in the lineup and taking Matt Duchene's old role as the second line center. Mikko Rantanen meanwhile has ignored the "sophomore slump" after his rookie season and has potted 7 goals and 13 assists. Rantanen has helped form one of the best lines in the NHL with Nathan Mackinnon and Gabriel Landeskog, all whom lead the team in points. Lets take a look at one of the bigger newsworthy players this past month, Samuel Girard. The 19 year old defenseman, acquired in the Matt Duchene trade, not only has shown that he has the poise and calmness of an NHL veteran, but has also proven to be such a good and reliable player that he now plays on the first defensive pairing on the team along side Erik Johnson and taking big power play minutes.
Girard may be a small player, but his quickness, hands, and skating, has proven that big things come in small packages. This kid is special. JT Compher is back from his thumb injury, and while having a shaky start since coming back, he has quickly gotten back to his game and even scored a pretty short-handed goal on a breakaway against the dreaded Minnesota Wild the other night. Nail Yakupov may be the biggest surprise of the year if he keeps his scoring rate going. Yakupov originally thought to be a long shot to stay on the roster looks like he may have officially figured it out after being a so called "bust" in Edmonton and after he was barely given a chance in St. Louis. While his defensive skills and hockey IQ remain questionable, Yak can score pretty goals that not many in the NHL can.
Nikita Zadorov has had a bumpy year so far after being a healthy scratch for a few games. His defense and slow skating have been direct causes for the benching and even forced him out of a game against the Ottawa Senators in Sweden during the Global Series. He has been able to put plays together again however so hopefully we see him return to a steady defensive game, similar to what we saw at the end of the season a year ago. Zadorov was able to pot another goal recently against the Calgary Flames so he should get some confidence from that.
The Avalanche play their next game at home on Wednesday against the Winnipeg Jets, a divisional rival and tough defensive team that has been on a roll this year. The Avalanche will need to step it up defensively if they hope to stay on a positive pace this season and will be met with an early challenge in this home stand. So here we are, over 20 games in with a team that has a positive record along with some exciting young players that are hungry to win and prove themselves. What a story it has been so far.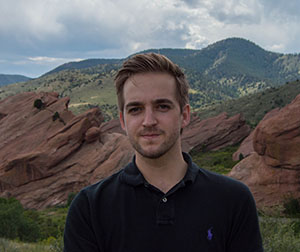 Graham Rendell is a native of Colorado, growing up in Evergreen, Denver, and Steamboat throughout various points of his life. He attended Saint Mary's University of Minnesota where he completed his BA in Journalism and Public Relations. He also completed an Art minor due to his passion for photography. Not only is he an avid photographer and writer, but a passionate musician as well. When he is not taking pictures around Denver or writing, he is likely to be found playing guitar with his band, or teaching students how to play the instrument that has made a profound impact on his life. Graham is looking to further use his skills in writing and photography in the photojournalism field to promote not just his own work, but the beautiful state that he has spent the majority of his life in.