Artist Spotlight – Jessi West Lundeen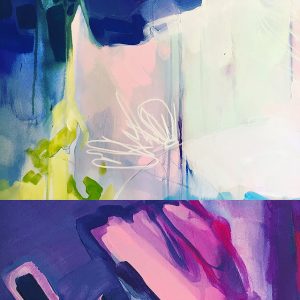 Jessi West Lundeen is a painter and illustrator who appears has limitless talents and creativity with her art. Lundeen currently focuses on her abstract paintings in her free time as a way of expression as well as letting loose her creative feelings. In the past however, Lundeen has experimented with many different types of painting and art forms before focusing on abstract paintings. "For a long time I created hyper realistic portraits, but I began to feel stuck. I turned to abstract painting because I could let go of everything and just create." Lundeen still does enjoy creating illustrations on cards, ornaments, and more for fun as well.
In order to get loose and create these beautiful paintings, Lundeen has something called a "Shit Board" where she just throws paint on a board in order to find some inspiration. As funny as this sounds, the board actually looks amazing with many different layers on top of one another, added over time. Lundeen believes that in order to create abstract paintings one must let everything go and paint with complete expression. "The brain tries to make sense of everything while abstract painting isn't supposed to make complete sense."
Inspiration to create for Lundeen also comes from many other sources. Losing herself in nature or something as simple as having coffee with a good friend can all be a source. "I don't believe in a whole lot of negativity, I am a very positive person and I try to make my art something that is also positive." This feeling and expression of positivity to Lundeen creates a more open interpretation to her works. No specific message is being conveyed, but for her, she hopes the viewer comes away feeling happy and positive.
Check out some of the awesome work Jessi has for sale on her Etsy at
www.etsy.com/shop/jessiwestlundeenart
To check out more of her artwork go to
https://www.jessiwestlundeen.com/
OR
https://www.instagram.com/jessiwestlundeen/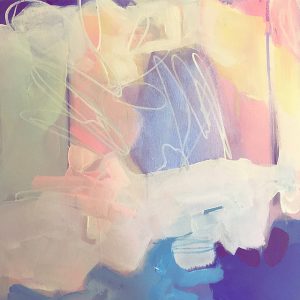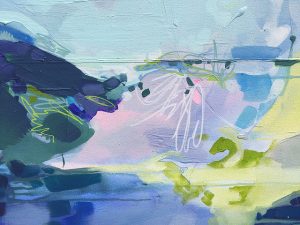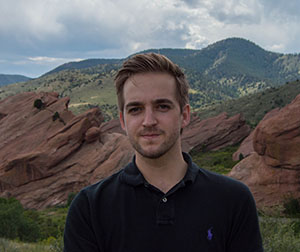 Graham Rendell is a native of Colorado, growing up in Evergreen, Denver, and Steamboat throughout various points of his life. He attended Saint Mary's University of Minnesota where he completed his BA in Journalism and Public Relations. He also completed an Art minor due to his passion for photography. Not only is he an avid photographer and writer, but a passionate musician as well. When he is not taking pictures around Denver or writing, he is likely to be found playing guitar with his band, or teaching students how to play the instrument that has made a profound impact on his life. Graham is looking to further use his skills in writing and photography in the photojournalism field to promote not just his own work, but the beautiful state that he has spent the majority of his life in.