Antibalas, Pink Hawks, and Ramakhandra at Summit Music Hall
Summit Music Hall is a LoDo favorite, dishing out pizza and live music to the masses. They host national headliners and up and coming local bands from a wide range of genres. They have a sizable dance floor and a wraparound balcony up top. Next weekend they're welcoming Antibalas, with Denver's own Pink Hawks and Ramakhandra.
Antibalas is an Afrobeat ensemble from Brooklyn. Over the last two decades, they've toured across four continents and produced eight studio albums. They've been called "one of the world's best Afrobeat bands" by The Guardian and "overwhelming and exhilarating" by Stereogum. They've been the house band at venues like Carnegie Hall, and the Apollo Theater, and they've appeared on Late Night With Jimmy Fallon and Jimmy Kimmel Live!. Antibalas is stopping through Denver on their North American tour, celebrating the release of their newest album. Fu Chronicles is a return to the band's beginnings, set in lead singer Duke Amayo's 1990's Kung Fu dojo. It's a journey of indigenous resistance, motherhood, politics, universal energies, and Kung Fu tradition. The songs are fiery and soulful, sparking action in dreamers and activists worldwide. The album dropped on February 7th, and you can find it at antibalas.com.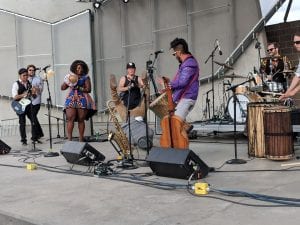 Pink Hawks is an Afrobeat/Chicano Hip-Hop orchestra. They have a dynamic, full-bodied sound that you can't help but dance to. The band is led by Yuzo Nieto. Trained in operatic singing, jazz saxophone, and theater, he has an enormous stage presence that engulfs the entire audience. Nieto is joined by an incredible twelve-piece world orchestra of professional musicians. The collective evolved from a free-form performance group, and their improvisational nature makes each show a unique experience. Pink Hawks has released three albums to date, and you can find them at https://pinkhawks.bandcamp.com/.
Ramakhandra are a local four piece future funk band based in Denver. The group consists of Annastezhaa on pedal harp and vocals, Clato on bass, Nobahdee on drums, and Ness on the synth. Their music is part protest, part pathway, guiding listeners through imaginative narratives full of trancy synth, melodic vocals and complex percussion. Their first single, Kujira, dropped on January 24th. You can give it a listen here (https://ramakhandra.bandcamp.com/releases ). It's a super fresh teaser off their highly anticipated first album, which is scheduled for release this spring. Ramakhandra has been playing shows all over Denver, and you may have seen them at Ophelia's, The Bluebird, or the Mercury Cafe. They also played a phenomenal set for Head Room Sessions, which I highly recommend checking out.
Saturday February 29th, it all goes down at Summit Music Hall. Treat yourself to an immersive musical experience from Antibalas, Pink Hawks and Ramakhandra. Tickets are on sale now at https://www.summitdenver.com/. See you there.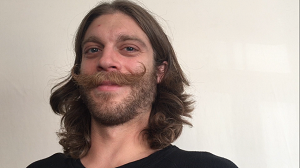 Jared is a local content contributor and aspiring author. He was fortunate enough to grow up in Golden, Colorado and graduated from MSU Denver. While an insatiable love of travel lures him all over the world, his roots remain firmly planted here. He enjoys writing short stories, poetry, children's books, societal observations, and everything else. A nature enthusiast and sunshine connoisseur, Jared is perfectly at home on any mountaintop or patio. He frequents art galleries and concerts, poetry readings and breweries, museums and bookstores. When he isn't making neighbors cringe at his musical attempts he can be found on a snowboard or sailboat, depending on the day. A perpetual adventurer and eternal patron of the road less traveled.