ALEO
ALEO is a painter and muralist based in Denver. He likes to paint his large scale murals freehand, using spray paint instead of brushes. Since 2013 ALEO's work has been featured in numerous exhibitions throughout Colorado, California, Washington, and New Mexico. Keep an eye out for his upcoming shows at Threyda and Mirus this summer.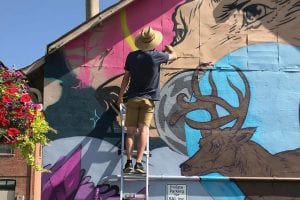 "I enjoy creating visual diagrams with abstract forms," says Aleo. "By mixing training with intuition, I can create that which could not exist along with that which appears to be from this world. Painting is the ebb and flow of form. Pushing the darks farther back and pulling the lights forward, while always refining. Painting is both chaotic and extremely precise, it all depends on where the painting is in progress. Color, technique, and experimentation are what I love about the painting process."
To see more of the artist's works, check out his website here.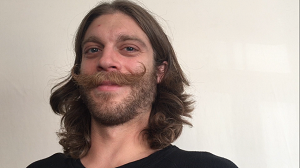 Jared is a local content contributor and aspiring author. He was fortunate enough to grow up in Golden, Colorado and graduated from MSU Denver. While an insatiable love of travel lures him all over the world, his roots remain firmly planted here. He enjoys writing short stories, poetry, children's books, societal observations, and everything else. A nature enthusiast and sunshine connoisseur, Jared is perfectly at home on any mountaintop or patio. He frequents art galleries and concerts, poetry readings and breweries, museums and bookstores. When he isn't making neighbors cringe at his musical attempts he can be found on a snowboard or sailboat, depending on the day. A perpetual adventurer and eternal patron of the road less traveled.