5×5 at the Abend
Abend Gallery has announced the latest iteration of one of its most popular recurring exhibitions, the 5×5 Project. It started four years ago with a simple idea: a mini show, with small scale paintings done on unframed 5×5 inch panels. Over the years, the idea blossomed into a showcase of epic proportions, with an ever-expanding collection of works. This year's event features more than 75 participating artists and encompasses a dizzying array of genres, subjects, and techniques. It's also a big year for debuts at Abend as they welcome 20 new artists. The 5×5 Project invites audiences into a world unconstrained by reality; a place born from creativity, passion, and artistic expression.
There's nothing quite like a portrait to connect with an audience. The human body is relatable on a fundamental level. This series includes some stunning portraits from artists like Luke Mack, Hilary Clarcq, and Ryan Morse. Mack is a visual artist hailing from Detroit. He has an interesting way of painting his subjects emerging from abstract backgrounds. This technique creates a contrast between the realism of the portrait and its less defined surroundings. Clarcq is an oil painter living in Boulder. Her style is a mix of portraiture, symbolism, and surrealism. Her selected paintings are monochromatic, focusing on variations of a single color without limiting the detail of the subject. Morse is a Denver-based artist and illustrator. His works are incredibly detailed, super-realistic depictions of the human figure. He's able to capture and convey expressions through partial portraits, focusing on portions of the face like the mouth or eyes while fading out the rest of the body.
In a venture away from the familiar, artists Phoenix Chan and Donato Giancola leap into the galactic unknown with their interstellar imaginings. Giancola is a New York artist with an illustrious career spanning nearly three decades. He blends realism, contemporary, and figurative arts with his love of science fiction and fantasy. His paintings for this series feature a lone astronaut on the edge of another dimension. He captures a moment of ultimate solitude and astounding discovery simultaneously. Chan is an artist and illustrator originally from Hong Kong. She has a fascination with felines and regularly incorporates them into her paintings. Her contributions to this series are playful and chronicle the travels of a cat in a space suit, hesitantly exploring distant worlds.
Also included are some notable cityscapes by Justin Wheatley and Mary Flack. Wheatley is a Utah-based painter whose works are somewhat quirky. He routinely paints scenes of what could only be called architectural personification. His style is intriguing, made more so by the symbolism in most of his works. His paintings for this series are less anthropomorphic and feature familiar Denver landmarks. Flack is an artist and instructor based in Chicago. She paints a variety of subjects from landscapes to portraiture. Her paintings for the 5×5 Project depict dusk-drenched rooftops and sun-kissed intersections.
Abend has offered a wide range of contemporary fine art for almost 30 years. One of Denver's premier galleries, it shares a space with Gallery 1261 and K Contemporary in historic LoDo. They've assembled an eclectic roster with numerous local, national, and internationally recognized artists. The 5×5 Project had small beginnings, but has become increasingly popular over the years, with some pieces becoming year-round additions to the gallery. This is your chance to see works from more than 75 phenomenal artists. The opening reception is Saturday, June 8th from 6-8 pm. You can see this remarkable collection thru July 6th. Abend Gallery is located at 1412 Wazee Street. Hours are 12-6 pm, Tuesday thru Saturday. For more information, visit abendgallery.com.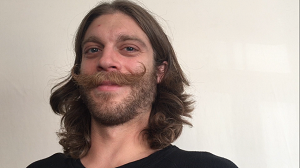 Jared is a local content contributor and aspiring author. He was fortunate enough to grow up in Golden, Colorado and graduated from MSU Denver. While an insatiable love of travel lures him all over the world, his roots remain firmly planted here. He enjoys writing short stories, poetry, children's books, societal observations, and everything else. A nature enthusiast and sunshine connoisseur, Jared is perfectly at home on any mountaintop or patio. He frequents art galleries and concerts, poetry readings and breweries, museums and bookstores. When he isn't making neighbors cringe at his musical attempts he can be found on a snowboard or sailboat, depending on the day. A perpetual adventurer and eternal patron of the road less traveled.