2020: Horror & Delight
Whew. We're into November now and 2020 is still barrelling through all social norms and historical precedents at a blistering pace. At the start of this year, I wrote about an event at the Oriental Theater that over 600 people attended, packed in shoulder to shoulder and drinking in front of each other. My last column was about a socially-distant productionat the Aurora Fox where a dozen folks sat many yards apart and were careful to walk in only one direction through the hallways. Let's just say that a lot has happened in between those two columns, or just as accurately to say, a lot has not happened, too. It's been a year of contrasts between the things that I love most about living in Denver: the vibrant arts scene and the stunning outdoor opportunities.
I'm sure I was not alone when, in March, I was shocked when an acquaintance told me that schools would be closing. I couldn't fathom such a thing. Professional-performer friends on social media were lamenting that their gigs were being cancelled "all the way into June," which, in retrospect, seems laughably naive. "March 2020: When We Thought This Would Be Over by June." Then we did a 1929-style bank-run on the entire toilet paper reserves of the Kroger corporation and did not venture out of our homes for months. The amount of beans we all ate were proportional to our stockpiles of toilet paper. The irony is not lost.
As a person who lives and makes a living in the realm of live performances, this has been a terrifying year. Deadly virus aside, watching the business model that has sustained my industry for decades fail utterly in the timespan of minutes was a cognitive dissonance that was impossible to comprehend: How can something that has always been, suddenly not be? Performers who have invested their lives in their skills suddenly had no work. Those who do not perform onstage (lighting designers, stage hands, entertainment columnists, etc.) suddenly were completely abandoned, too.
I am not in anyway saying that we are out of the woods. COVID cases are higher this week than they have ever been. We are far from done with this public health crisis. What I am saying is that this year has been a time of enormous growth and innovation for the performing arts. Podcast and TV shows moved from recording in studios with live audiences to recording in their basements with no audience. It was…weird. It took us some time to adjust to the new format, both as creators and as consumers.I started watching local performers on Twitch in March and it was…awful. Then the Denver scene started to evolve and produce things that were totally innovative. The Rainbow Militia sealed their performers with plastic into isolation chambers. The Fox singers sang through their masks, far far away from the audience. The Audacious Theater created a drive-in Halloween horror show. Circo de Nada started streaming their events online and created a Digital Decameron.
These innovations are reassuring, if vastly inadequate to keep artists functioning. I don't know any artist who is earning enough to survive these days. Selling tickets to ¼ capacity in venues is unsustainable and my conversations with online event producers suggests that virtual attendance continues to fall as people get weary of yet another Zoom call. What to do? I have no idea. Buy some takeout food from a local restaurant and purchase a ticket to the streaming event by your favorite local artist. It seems inadequate because it is.
Which brings us to the other thing about this summer. One of the few things left to us to do is go outside, where the fresh air blows away the COVID and there's enough space to socially distance. I have not performed on stage in many months and I miss it terribly. The silver lining (and it's a very, very thin silver lining) is that the time I no longer spend planning and preparing performances has been free to devote to the other wonderful things in Colorado. As quarantine stressors piled up along with COVID mortalities this summer, I spent my awkwardly-solitary hours cycling over mountains and running endless loops through the Denver Parks system. I'll even admit to day-drinking in a few of those parks on a lot of afternoons, playing with my dog and doing my duty by supporting Colorado breweries that make my favorite sour beers. It's a rough job, but somebody's gotta do it. These days of cycling, running, beer-drinking, and dog-playing have been wonderful. I struggle to reconcile the facts that this year has given me both horrors and delights.
All of us will emerge from this pandemic changed people. The kids who are losing years of educational achievement may never catch up and those who are able to access support and resources for the school districts' best efforts at remote education will still lose the critical learning opportunities for social skills and institutional navigation that formal schools provide. Many (most?) artists will not be able to continue their work. Venues will close and never reopen. Workers will leave the workforce and never return. This conversation doesn't even include the staggering death toll and the economic fallout of all the other industries affected. It's hard to pitch this situation as having a positive outcome. It's *still* hard, seven months later, to wrap my mind around the things that are happening.
Yet here we are, innovating and creating in the face of catastrophe. Humans will create because that is what we do; it's the defining characteristic of humanity. We look to the grandeur of the Rocky Mountains and take a deep breath of thin air and say, Yes, we can still do something. And then we do it.  I'll be reviewing a number of new productions this coming holiday season; I look forward to seeing how artists create new and wonderful things, while staying safe in a pandemic. I may even do this après cycling, and while drinking a beer.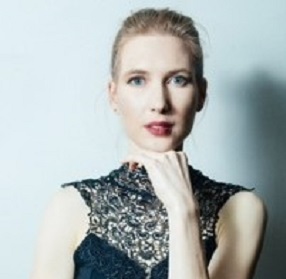 Jessie Hanson lives and works in Denver and couldn't be happier about it. Like the best-possible kind of Jekyl-and-Hyde scenario, she splits her life between science and storytelling. During the day, she performs clinical diagnostics and messes around with test tubes. At night, she performs behind the mic as a standup comedienne, in the air as a circus aerialist, and in rhinestones as burlesque dancer. She begrudges the hyper-inflated cost of a decent pair of false eyelashes. When she's not on stage, she sweating it out as an endurance athlete in triathlons and marathons across the West. She begrudges the hyper-inflated cost of a decent pair of running shoes. She's thrilled to be on board with OnDenver and writing about science, comedy, circus, athletics, and general fun on the Front Range!