Where Art Thou, Date Night?
Date nights are hard to come by when you work full time and have been married for what seems like forever. Throw a small child into the mix and you may as well forget about it.
Although childless, my husband and I frequently plan date nights together. Oftentimes date night in our house consists of trip to Qdoba for take-out, followed by 30 minutes deciding on what to watch on Netflix. I swear, for a platform that has everything, it's impossible to agree on one show to watch. Our usual plans were thrown out the window when my husband came home with tickets to see a show at the Ellie Caulkins Opera House.
The show was our opportunity to get dressed up and shake up our normal routine, so dinner and drinks were a must. The selection of restaurants around the Denver Center for the Performing Arts can be overwhelming as there are endless options nearby. However, finding a spot that takes reservations, offers a variety of dishes, and isn't far from the theater can be tough.
But don't fret, I've got you covered. Here are five hot spots to dine and drink before a show.
Just a block north of the DCPA complex, off 14th and Arapahoe, sits the glamorous Four Seasons Hotel – home to Edge Bar. The swanky bar, located on the first floor, features a variety of seating options, floor-to-ceiling windows, and exudes a fancy-AF vibe – without the extravagant price tag. The dining area is splashed with modern chic décor and provides a cozy yet welcoming environment. The impressive wine list features 50 varieties of wine from throughout the world to choose from, while the cocktail menu brings creative concoctions to life. The innovative food menu from executive chef Simon Purvis features his signature dishes as well as tapas-style eats, which is perfect for sharing – I recommend the truffle fries and sliders. For a more intimate experience, head to the Edge Restaurant. This signature steakhouse allows reservations and features locally sourced ingredients to give you a true taste of Denver.
A fan favorite close to the theater, featuring both global fare and legendary martinis, is The Corner Office. This hot spot uses only the freshest ingredients to introduce your palate to a variety of flavor while expanding your culinary horizons. Nosh on the classic Tikka Masala, Bibimbap rice bowl, or simply split the Devils on Horseback for an international starter. Their notable martini list provides eight different takes on the classic martini, while the cocktail list provides a fun and refreshing menu–the perfect pre-show drink. Reservations are recommended as this eclectically modern restaurant fills up fast on show days and for happy hour, as it remains the go-to spot after work.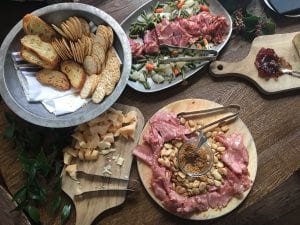 The Nickel provides a unique dining experience in the heart of the city, located in the historic Hotel Teatro. A former Tramway Building, the restaurant showcases historic art on the walls allowing diners to see a piece of history, as the space used to collect nickels from customers riding the resident streetcars. Aimed to make all guests feel at home, the menu highlights homemade comfort food and has an extensive selection of cured meats. The charcuterie board options are endless and easily pairs well with a glass of wine. Their famed Social Hour runs from 3 – 5 pm daily and features large plates and barrel aged cocktails starting at just $5. Reservations can be easily made online for Westword's vote for Best Hotel Restaurant.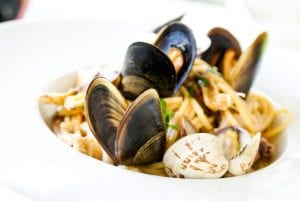 Just a stone's throw from the theater, The Oceanaire Seafood Room provides the perfect setting to enjoy fresh seafood, outstanding wines and decadent desserts before any show. Their commitment to sustainably caught seafood is evident by their simply stellar menu. Admiral's Hour features small bites like fresh oysters on the half shell, steamed mussels, and fried calamari, bringing a true taste of the ocean. Also highlighted are $5 drafts, $7 wines, $8 cocktails and specialty martinis. Although this special is offered in the bar only, sharable plates and dinner are offered in the spacious dining room. The impressive dinner menu showcases prime cuts of steak, fresh seafood pasta and delicious specialties like Stuffed Cod Florentine. Even better? Receive a complimentary appetizer with the purchase of an entrée when presenting your show tickets. With knowledgeable service, lovely views of the city and $10 valet parking (will hold your vehicle until shows end), this upscale restaurant makes for the perfect date night spot.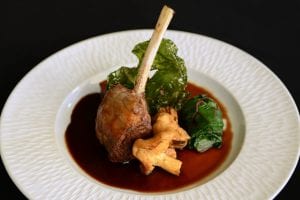 For a truly extravagant pre-show dinner, head to Kevin Taylor's at the Opera House. Located on the first floor of the Ellie Caulkins Opera House, the space exudes class and is absolutely gorgeous. Featuring red accent walls, intimate lighting and a one-of-a-kind menu crafted by renowned chef Kevin Taylor, the restaurant is the perfect on-site dining experience. For $50, each diner is invited to sample a pre fixe three course menu featuring classics like Foie Gras,  Colorado lamb and passionfruit crème brulee. With abundant reservations available, endless wine options and exceptional staff, it's obvious why this spot is a favorite before any major performance.
Frequent date nights out may result in concerns for budget, a babysitter and not enough time to accomplish tasks at home, making it easy to let the stress take over. However, studies show that couples who have date nights once a month look forward to an experience with their significant other and have the highest odds of staying together.
With the influx of shows, musicals and movie screenings flooding the Denver Center for Performing Arts calendar, date night holds a whole new meaning.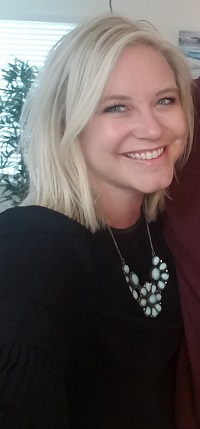 Katie traded in her flip flops for hiking boots at age three when her family moved from sunny Florida to even sunnier Colorado.  Katie's passion for food began at an early age when she would retrieve a strip of bacon from the counter each morning - a daily treat from her nanny.  That was only the beginning for her love of food.  After graduating with a degree in Communications (with an emphasis in Public Relations), she got her foodie start as Yelp Denver's first intern and has been scouting places to nosh all over Denver since.  For the past 9 years, Katie has maintained Yelp Elite status and made lasting relationships with local business owners, while continuing to be an avid food consumer and writer.  Her latest cravings and discoveries are frequently documented on her Yelp page.  Katie is known for her unique and witty writing style, obsession with avocados, and is considered the go-to girl when it comes to finding a place to dine.  When she's not finding a way to quit her day job to be the next Guy Fieri, she can be found slinging balls on the golf course, binging on true crime podcasts or indulging at a local brewery in the burbs.  Look for her work each 
Friday
 under Bites with Blondie.