When on Colfax Ave., Have Some Ham on Rye
Poetry and cinema collide at Ham on Rye, a monthly event series. I had the pleasure of interviewing Travis to get the inside scoop.   
Ham on Rye normally occurs on the first Wednesday of each month (May 3rd) at 7:00 PM. Film screening at 8:30. The address is BarFly 4255 W. Colfax Denver, CO 80204
What should one expect to experience at Ham on Rye?
Each reading begins with a song to set the mood, selected by the featured writer for the evening. I give a brief talk about poetry, the world, the intersection of poetry and film, or something relevant to the reader. I also have a 10,000 foot scroll of paper (in honor of Kerouac's On the Road) that I cut a chunk off of, and everyone attending collaborates to create an "exquisite corpse" poem to commemorate the event. The theme is different every time. While that gets started, I read the typed up "corpse" form the previous reading and then thread it into one of the vintage typewriters in the space. Our featured reader performs for half an hour or so, followed by 15-20 minutes of Q&A with the audience, which has proved to be surprisingly fruitful. Our authors are quite forthcoming and funny. Then there's usually a few minutes of book buying and signing… The Tattered Cover has been kind enough to handle a lot of the book sales for us. The evening finishes off with a special screening of a film that the author has chosen, which can be pretty much anything. But the author introduces it and talks a little about its special significance to him/her. There are a few other little rituals we do with the authors, but that's the gist of it.
How would you describe the attending community?
The crowd is enthusiastic and eclectic, as one might expect from a series that brings poetry and film together. We get all ages and all walks of life. Writers from the local community are common, of course, but we also see a lot of visual artists and people who are just curious about poetry. Some innocent bystanders who are just having a drink before a movie have gotten drawn in, too, I hope positively.
Tell me about the setting/atmosphere of Ham on Rye?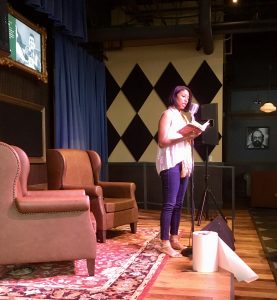 BarFly is the bar/performance space associated with the new Alamo Drafthouse Cinema by Sloan's Lake. My dear friend, Walter Chaw, saw an opportunity to build a space that pays homage to the literary history of Denver and Colfax, in particular. The end result is a beautiful space filled with typewriters, books, and original paintings of Beat Generation writers. Our readers get to perform on an actual stage with a professionally handled sound system. It's pretty spectacular, honestly. Poets love to read there.
Is there an entry fee?
No. But if anyone wants to stay following the reading to attend the featured film, they do need to buy a ticket for that.
Are there food items/drinks available for purchase at the venue?
The full menu of the Drafthouse is available, with food, cocktails, beer, and full table service.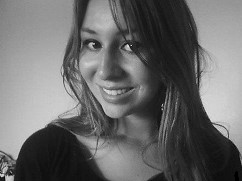 Bianca Glinskas hails from sunny Southern California, where she studied English and Creative Writing at California State University of Long Beach.  Bianca's work has appeared in literary magazines including 
Knock Your Socks Off,
Ordinary Madness,
 and 
Glass Mountain Magazine.
Bianca's column arose as a natural attempt to answer the call of Denver's lively, pulsating literary scene. When she isn't reading or writing, Bianca enjoys doing yoga, playing viola, exploring the outdoors, drinking at breweries, and holing up in coffee shops for hours on end. For any inquiries regarding Bianca's coverage of Denver's literary scene, please do not hesitate to contact her directly at 
bglinskas@gmail.com
.