Well-being Delivered
This fall I started receiving a subscription to a meal kit service – a weekly delivery of the ingredients and recipes to prepare meals for the week.  My thought at the time is that I would enjoy having my meals planned for me, complete with ingredients, but still have the pleasure of cooking for myself.  I had no idea how much my well-being would improve as a result.
Here's how the service works.  Most companies offer meals for 2 or 4.  Typically, 3 meals are available each week, with the option to skip a week at any time.  The service I'm using allows me to choose from the following menus – vegetarian, carnivore, omnivore, paleo or gluten-free.  I am receiving 3 meals for 2 each week. After about a month on this plan, here's what I've learned:
I enjoy cooking even more. Why? Because I don't have to gather all the ingredients or worry about substitutions if my grocery store doesn't have what I need. Having the ingredients delivered to my doorstep with recipes that typically take no more than 30 minutes, has been awesome! It has been a great opportunity to make some things I've never considered, like eggplant quesadillas.
I eat even better than I did before. I've always been a pretty healthy eater, but the delivery service has improved my habits in two important ways. I eat lots of veggies in each meal, so the variety of produce I eat in a day has improved. Typically, when I cook for myself, the meal is pretty simple – a protein and a veggie or two. Now I am eating an entrée that includes veggies in the preparation and a side that is loaded with veggies as well.
I waste less food! It is important to me not to waste food. I can tell you, however, that eating for 1 is nearly impossible to do without some food waste. Items like parsley, cilantro and salad greens come in very large quantities for one person. Now I get just what I need to make the dish and no more.
I save money. There are several reasons I am saving money by purchasing the meal kits. 1) I am not spending as much on the items I receive as I would if I purchased them at the grocery store. 2) I am not wasting as much food. 3) My trips to the store are generally for staples – cereal, milk, fruit and other snacks – not for higher ticket items. The combined cost of my grocery store trips with the meal kits is about $20 lower so far than my weekly food bill previously. If you've considered a meal kit delivery service but haven't taken the leap, I encourage you to give it a try. I've tried 2 different services and was very impressed with both. The decision to choose one over the other was based on my desire to eat locally or regionally sourced, organic food. The benefits of using a meal kit delivery have exceeded my expectations. I'm reaping the benefits of physical, financial and environmental well-being while enjoying one of my true passions.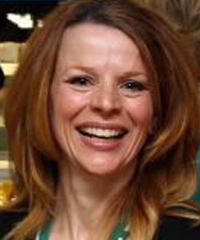 Andrea wants to live in a world where the neighborhoods are walkable, bike lanes are plentiful, and the food is fresh, delicious and readily available. A 20-year veteran of the health and wellness industry, she started her career in the fitness industry while earning a master's degree in Exercise Science and Health Promotion, and then on to the burgeoning field of worksite wellness. Andrea has competed in collegiate level soccer, worked as a personal trainer, fitness instructor, wellness coach, and master trainer, climbed 14ers, and completed cycling centuries and metric centuries. All of these experiences give her the opportunity to view well-being from many different perspectives. When she's not helping others to be their healthiest self, you can find her at a farm to table restaurant, down dogging at the yoga studio, or experiencing the Colorado landscape on a bicycle, snowshoes, cross country skis or on foot.