Welcome Goat Patch!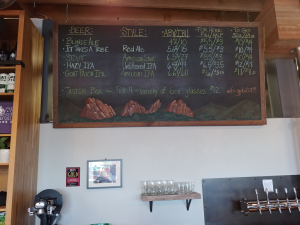 While it would be easy to sit here pushing my way into a clever anecdote about goats, or the idea of goats wearing patches, or goats wearing patches drinking a beer, or a goat wearing patches drinking a beer in a local brewery located off of North Cascade Avenue in Colorado Springs—well, that one got away from me a bit. In all, it would just be easier to let the staff and customers of Goat Patch Brewing Company speak for themselves on this matter, or simply find your way there and see it for yourself. Goat Patch Brewing Company is still a fairly new company located in the Colorado Springs area, with unique limited time brews such as the Plummer's Crack (a plum and coffee hazy double IPA) or their quite popular Hazy IPA (an unfiltered IPA) accompanied with a relaxed, welcoming, atmosphere that both staff and customers come to appreciate. This is an establishment anyone would feel right at home within.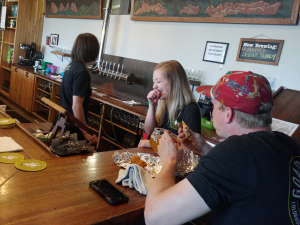 "There is just this really close-knit family mentality; everyone is there for each other and we really enjoy being here. I feel cared for, which is not something you usually get in this line of work," Austin says. Austin joined the team roughly eight months ago and has enjoyed every minute of it thus far, which is apparent in how the staff are able to interact with one another and the customers. The customers voiced they more than appreciate that the service is easily above and beyond.
Tessa, the Shift Lead for Goat Patch, has been on the team for 2 years in June and weighed in with a response that was quite confident for being an on the spot answer: "We have this really awesome dynamic with the customers, not to mention the home like atmosphere, and the fact that we can support the product we are selling." This was yet another comment supported by the customers as they were more than pleased with the consistency of the products that Goat Patch has to offer in comparison to some of the bigger brands around the state of Colorado.
Customers such as KC and Lo, who have frequented Goat Patch for quite some time, made it apparent that one of the reasons they like to stop in at Goat Patch is not just the staff rapport, or the product consistency, but also because of the location; with the brewery being located on North Cascade Avenue in Colorado Springs, this might be a drive for some, but once you are there it wouldn't take long to see what the fuss is all about. As apparent in the picture of KC and Lo, it is an environment where you can make yourself at home, and just have a good time. "You feel welcome, like they want you here."
For others, such as Zack and Courtney (Zack's first time, and Courtney's second at Goat Patch), they were immediately taken by the same attributes as everyone else who have stopped into Goat Patch Brewery: the atmosphere, the product quality, the location, and the staff mentality.
With other perks such as an incredible view of the mountains, the ability to open up the lounge area of the brewery via large doors, a dog friendly patio, and nearby food options such as Smorbrod next door or food trucks in the parking lot, this place is hard to beat. With summer right around the corner, there is no better time than now to stop in for an ice cold brew and everything else this location has to offer.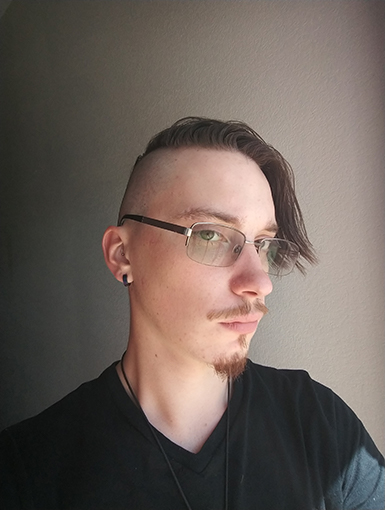 Cailean has lived in Colorado his entire life, a 22 year old young man located in the heart of Colorado Springs. He has worked as a freelance writer for clients around the United States, and took the initiative to get first hand experience "behind the scenes" of the culinary industry here in Colorado; at the age of 5 he was reading college level books, and had already begun writing his own stories. In his free time he can be found exploring the state of Colorado, playing music with friends, or continuing to gather knowledge of the local culinary industry, it can be mentioned by his friends and family that he never really stops working- his mind always goes back to the same thing: stories. There are so many stories around Colorado that he wants to bring right to your fingertips.