Top 3 Things to do in Lakewood
Motto: "Tomorrow's City, Today"
1. Catch the cliff divers at Casa Bonita
Maybe the best tourist trap to do in Colorado, period–Casa Bonita is more than just the "Mexican Disneyland" of South Park fame. As tourist trap-y as it gets, Casa Bonita is great, cheesy fun for locals as well, and provides a whole host of entertainment with the chlorine smell, notorious cliff divers, pirate treasure, and sopaipillas.
2. Visit the Lakewood Cultural Center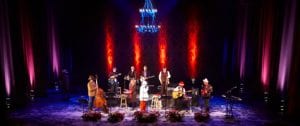 When you're done getting a taste of "authentic" Mexican culture, head over to the Lakewood Cultural Center for some real cultural events. Located across from the Belmar shopping area, the Cultural Center hosts art exhibits, cultural classes, shows, and more! Get season tickets to ensure you can see everything they have to offer.
3. Visit Kendrick Lake Park
Kendrick Lake Park is a beautiful spot to go for a run or take your dog for a walk, complete with a playground, lake, and grills to spend time with the whole family. Park shelters can be rented to host activities including celebrations and family get-togethers.
Kaylee was raised (but not *technically* born) in Colorado. She graduated from Regis University with a bachelor of arts in English. During her time at Regis she worked as a teaching assistant in a freshman classroom setting and in the writing center helping students on a variety of topics. While there, she discovered Cura Personalis, or care for the entire person, leading to her love of feminism and desire for equal rights for all. Kaylee is the managing editor for
AboutBoulder,
OnDenver,
and a key member of the
OnMetro
team, launching this platform in cities across the United States.