Top 3 Restaurants in Aurora
1. Rosie's Diner
Rosie's Diner is a quintessential 50s joint with greasy burgers and Southern favorites such as chicken fried steak. Any of the food is pretty good, but anything with gravy on top will be a true home run. Service is speedy and there's rarely ever a wait, so feel free to pop in the next time you're in Aurora.
2. Helga's German Restaurant & Deli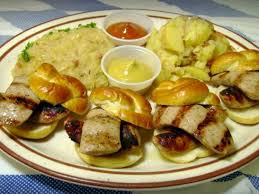 There's not a lot of German restaurants in Denver, so I'm always on the lookout for something that's authentic and delicious. Helga's German Restaurant & Deli is both of those things. Sauerkraut, pretzel bun, spaetzle–I'm partial to bratwurst as the side to any of these three components, but they also offer a plethora of other meals to choose from, including goulash and pork schnitzel.
3. Denver Biscuit Co.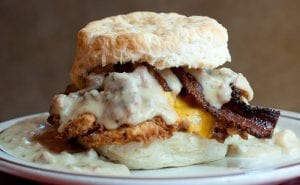 Carbo-loading on the weekends is one of my favorite pastimes, and there's no greater place to do so than at a biscuit themed restaurant. Denver Biscuit Co. has your classics like biscuits and gravy, but they also have Cordon Bleu on a biscuit or biscuit French toast. Come hungry or be prepared to take food home as the portions are huge.