Top 3 Bars in Golden
1. Miners Saloon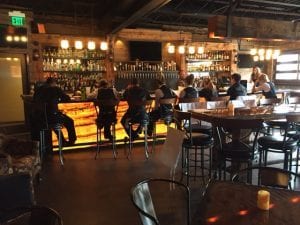 This modern-day bar is reminiscent of an old Western saloon, complete with the decor and drinks to match. There are 24 taps as well as 50 bottled beers. There's also a house-made menu including venison, boar, and bison sausage. As winter is coming up, there are two fireplaces to keep you warm and toasty while you make new friends.
Drinks to try:
Huckleberry 44N Vodka Lemonade/ Who's your huckleberry? Huckleberry vodka with fresh lemonade, on draft
All Of My Vices/ famous grouse, laphroaig, midnight espresso liqueur, xocolati mole bitters, musscovado, donut
Hudson 'baby' Bourbon
2. Golden Moon Speakeasy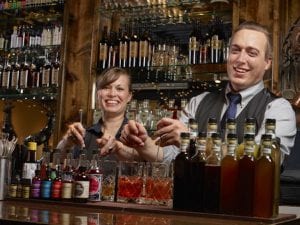 This speakeasy style cocktail lounge features a distillery and a tasting room with all drinks made with Golden Moon spirits. There is also live music weekly, and if you enjoyed your drink, they offer bottles for purchase to take home with you to make your own cocktails.
Drinks to try:
Bad Joel (Spicy!!)
Gin, Picon, Grapefruit, Lemon, Burnt Honey,
BBQ Bitters, Jalapeño
South Pole Swizzle
Kümmel, Gin, Passion Fruit, Honey, Lemon, Aromatic Bitters
To Be Drank Often
Apple Jack, Lime, Cucumber, Orgeat
3. Ace-Hi Tavern
This vintage 1961 dive bar is in an old opera house. Per their website, "With the "Best Happy Hour in Jefferson County", Ace Hi is a go-to for Colorado School of Mines students and other locals looking for great value and a great time." Thursday nights are the best band for your buck as its ladies night and karaoke night with $1 tap and well drinks.