Three Ways to Take Advantage of Opportunities Created by Coronavirus
Our lives have all changed due to coronavirus. It has fundamentally altered our work, school and off hours pursuits. You can't watch TV without seeing a commercial for COVID-19. The news starts with the stats on the virus—either nationwide or locally, depending on the broadcast. For those who are working, there are emails, meetings, and even co-worker discussions about our current state of affairs and how it is affecting us.
The coronavirus is disrupting our day-to-day lives, but that disruption is giving us the opportunity to reflect and reconsider what we do, the how, and the why. Consider new opportunities that the pandemic offers and how you can leverage those opportunities to make your own life better.
Allow yourself to be bored!  Research says that boredom can spark individual productivity and creativity. Boredom is an unsatisfying search for neural stimulation in the brain.  It allows the mind to daydream, which requires you to "get into your own head."
To reap the benefits of boredom, choose an activity that requires little or no concentration to tap into true boredom – Walk a familiar route or complete a repetitive task with no other distractions, like music.  Research has shown that bored subjects tend to come up with more creative ideas.  Most of us have a number of distractions – our phone, our computer, Netflix—and we are more reliant on them during the pandemic.  Forgo those distractions and see what happens! Not only may you have a brilliant idea, you'll improve your mental health in the process.
Help someone else.  You probably know someone who could use some help.  We all know someone who has lost their job. You may have elderly neighbors, family members, or co-workers who are high risk due to other health conditions such as low immune function, asthma, heart disease, diabetes or other conditions.
Research shows that helping others is good for us.  Among other things, helping others lowers blood pressure, promotes positive behaviors, and gives us a sense of purpose and satisfaction. Doing something kind doesn't have to be a grand gesture.  It can be something as simple as picking up some items at the store for your elderly neighbor; volunteering some time to help food banks or other non-profits; making masks for your friends, family, essential workers or first responders. Doing good for others helps us to be well.
Remain positive; express gratitude. I saw a wonderful meme on social media. It said, "Being positive doesn't mean ignoring the negative. Being positive means overcoming the negative. There is a big difference." Robert Emmons, a psychologist and professor at UC Davis, writes that when disaster strikes, gratitude is essential. No one feels grateful that he or she has lost a job, a home, good health or financial security. Emmons says it is vital to make a distinction between feeling grateful and being grateful. Feelings follow our perspective on the world – thoughts we have about the way things are, the way things should be, and the distance between the two.  In this time of crisis, gratitude provides a point of view where we can see the big picture and not be overwhelmed by temporary circumstances. Make the choice to be grateful.
All of this interruption can be a catalyst for doing things differently in the future. We have the opportunity to re-think our habits and make changes.  Reflect on what you have done differently during the crisis and determine what practices you have adopted for the pandemic that you might want to continue in the future.
No matter what you do, stay well, be safe, and remember that this, too, shall pass!
For more information about opportunities created by the pandemic, visit Forbes.com to read the article.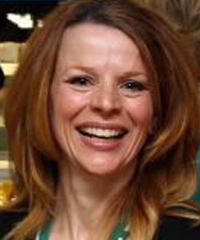 Andrea wants to live in a world where the neighborhoods are walkable, bike lanes are plentiful, and the food is fresh, delicious and readily available. A 20-year veteran of the health and wellness industry, she started her career in the fitness industry while earning a master's degree in Exercise Science and Health Promotion, and then on to the burgeoning field of worksite wellness. Andrea has competed in collegiate level soccer, worked as a personal trainer, fitness instructor, wellness coach, and master trainer, climbed 14ers, and completed cycling centuries and metric centuries. All of these experiences give her the opportunity to view well-being from many different perspectives. When she's not helping others to be their healthiest self, you can find her at a farm to table restaurant, down dogging at the yoga studio, or experiencing the Colorado landscape on a bicycle, snowshoes, cross country skis or on foot.