Three Kings Tavern – a live-rock bar in Denver
Three Kings Tavern is a Baker neighborhood classic and a second home to many. It sprang from the literal ashes of the Cherry Pit (RIP) at 60 South Broadway in 2006. Since then they've been dishing out live music and cheap drinks to beloved patrons. It was originally opened by three friends and concert promoters with the shared goal to treat everyone like a rockstar. They do a pretty great job. It's become a go-to for local bands, comedians, burlesque dancers, and kindred spirits from all walks of life.
The stage is open to all kinds of music, but mostly rock bands. They get some fairly big names coming through. MF Ruckus, Slim Cessna, High Fire, Los Mocochetes, and even Red Fang have played there. On Mondays, they have a weekly burlesque show presented by Ooh La La. If you take your pants off, you get in free and get a complimentary drink at the bar. There are
new performers and themes every week. It's probably the most fun you can have in Denver for five bucks.
This coming week is full of good news as usual. On Monday the 10th, they have the aforementioned burlesque show. Go to that. Wednesday the 12th is Ancient River with Ancient Elk and Mystic Wool.
Ancient River is a two-person band from Gainesville stopping through on a nationwide tour. They play psychedelic rock with a really creative and full-bodied sound. I'm always
impressed with drummers that do vocals as well. Thursday the 13th is Starjammer. Less of a band and more of a "universal sound exploration vehicle", Starjammer is one musician, Squiddius J. Madden, playing a myriad of
instruments. He brings inventive avant-garde dub reggae to venues all over Denver. Both of these are going to be great shows and they also happen to be free. What more could you ask for? Music starts at 9.
It's easy to see why Three Kings is so well loved. With live music, cold beers, pinball, and pool tables, they have all their bases covered. The bartenders are exceptional, and the atmosphere is laid back. It's a little divey and a lot of awesome. Stop by for a show. They'll make you feel right at home.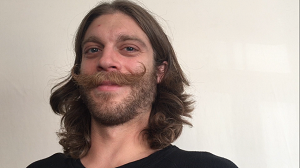 Jared is a local content contributor and aspiring author. He was fortunate enough to grow up in Golden, Colorado and graduated from MSU Denver. While an insatiable love of travel lures him all over the world, his roots remain firmly planted here. He enjoys writing short stories, poetry, children's books, societal observations, and everything else. A nature enthusiast and sunshine connoisseur, Jared is perfectly at home on any mountaintop or patio. He frequents art galleries and concerts, poetry readings and breweries, museums and bookstores. When he isn't making neighbors cringe at his musical attempts he can be found on a snowboard or sailboat, depending on the day. A perpetual adventurer and eternal patron of the road less traveled.