This Year's Flu Is No Joke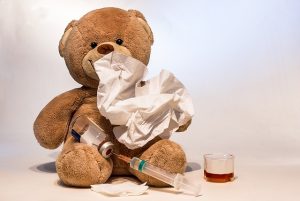 The CDC is reporting an unusually severe flu season this year.  The weekly "FluView" report put out by the agency states, "all U.S. states but Hawaii continue to report widespread flu activity and the number of states experiencing 'high' influenza activity increased from 32 states plus New York City and Puerto Rico to 39 states plus New York City and Puerto Rico."  In its 13 years of flu monitoring, this is the first year that the continental U.S. showed widespread flu activity.
Why is the flu so bad this year?  Different strains of influenza circulate each year. This year, influenza A — specifically H3N2 — is especially prevalent, according to the CDC. In years with predominantly H3 viruses, according to the CDC, the country tends to see more serious cases of the flu, especially in young children and elderly adults, as well as decreased vaccine effectiveness, resulting in more total infections and more hospitalizations. A separate flu strain, H1N1, more commonly known as the swine flu, has also popped up in some parts of the country, adding even more cases to the tally.
The flu shot is tweaked each year in an attempt to target what are projected to be the most prevalent strains of the disease, but the process isn't foolproof. The CDC estimates that the vaccine will be effective against roughly 30% of H3 viruses this year.
Most seasonal flu activity typically occurs between October and May, but it most commonly peaks between December and February.  The CDC still recommends that you get vaccinated if you haven't already, as there could be as many as 13 weeks of flu season still to come. In addition, the shot may protect against influenza B strains, which typically come out later in the season.  The Colorado Department of Public Health and Environment has a link to resources for a flu vaccine here.
What else can you do to protect yourself from the flu?  Here are some tips:
Wash your hands!
Avoid close contact with those who are sick.
Stay home when you are sick.
Avoid touching your eyes, nose or mouth.
Eat well, get adequate sleep and manage stress.
Don't want the flu shot because you don't like needles? There is a needle-less option for adults 18-64 years old:  the jet injector vaccine with Afluria, which uses a tool with high pressure to deliver the vaccine.
Already have the flu?  There are  three antiviral  medicines peramivir (Rapivab), oseltamivir (Tamiflu), and zanamivir (Relenza) available from your doctor, which can cut the severity of flu and shorten the duration of symptoms. These only work if you start them within two days of contracting the flu virus.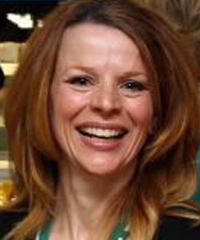 Andrea wants to live in a world where the neighborhoods are walkable, bike lanes are plentiful, and the food is fresh, delicious and readily available. A 20-year veteran of the health and wellness industry, she started her career in the fitness industry while earning a master's degree in Exercise Science and Health Promotion, and then on to the burgeoning field of worksite wellness. Andrea has competed in collegiate level soccer, worked as a personal trainer, fitness instructor, wellness coach, and master trainer, climbed 14ers, and completed cycling centuries and metric centuries. All of these experiences give her the opportunity to view well-being from many different perspectives. When she's not helping others to be their healthiest self, you can find her at a farm to table restaurant, down dogging at the yoga studio, or experiencing the Colorado landscape on a bicycle, snowshoes, cross country skis or on foot.