There's No Place Like Steuben's
Click your ruby red slippers together three times, and I'm sure you'll end up at Steuben's. There's something for everyone here, as this restaurant prides itself on a modern touch of the classic American style dishes you'd find at your favorite local food spot. While "American" to some might only mean one style of food, at Steuben's they see America as the great melting pot of culture, which is showcased through their variety of foods. They wanted to evoke memories, to make you feel as though you were right back in your own neighborhood ordering the falafel from the truck down the street, home-made fried chicken from your mom's best friend, or the pork schnitzel from the local pub next door. This classic American style restaurant will have you falling in love with its food and its charm before you can say "Oz." The reasons are endless, but I'll give you the highlight real to save time.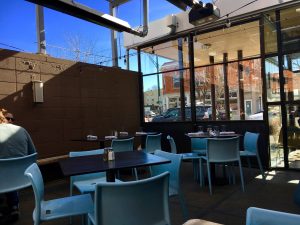 I parked in the parking lot attached to the restaurant (yes, there is a parking lot for once), and walked up to the entrance. I was greeted by a very bubbly hostess asking if I wanted to sit inside or outside. It was 60 degrees that day, so of course, I opted for outside. As she took me back, it was almost like I was in a modern age 50's style diner. We walked past the diner style bar and the rows of striped booths to the outdoor patio area. It was pretty crowded for a Monday afternoon, but that meant it must be good. I sat down in one of the light blue chairs and looked up at the strings of light bulbs draped above me from one side of the patio to the other. It was a very pleasant vibe, everyone seemed relaxed and content. Maybe it was the weather, but it also could have been the delicious looking malted milkshakes I saw everyone having. I took my time looking at the menu, deciding what on Earth I was going to have. The options were endless, from chicken and waffles, to breakfast burritos, to mac n cheese, to pierogis, I was overwhelmed to say the least. The waitress came back and I made a split-second decision going for the blackened chicken club.
I ordered:
Blackened Chicken Club: Locally sourced chicken seasoned in house, bacon, sprouts, avocado, tomato, aioli spread, on two thick toasted slices of bread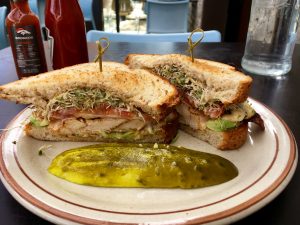 The split-second decision was a great one. The sandwich was one of the best ones I've had in a long time. The chicken was seasoned with some cayenne to give it a bit of a kick, and the delicious aioli balanced it out perfectly. The bacon was cooked to match the blackened seasoning of the chicken with just the right amount of crunch, and thick enough to not taste like a cracker. Fresh sprouts and tomatoes added a nice crunch, while the avocado paired well to give it a little bit more creaminess. And of course, last but not least, the bread was a perfect vehicle for this powerhouse of flavors, adding a nice buttery flavor to the end of it all. It was a shame I was so stuffed, because the Mississippi mud pie and the truckstop chocolate cake sounded delicious. But who am I kidding, I'll be back for those in no time.
The one stop restaurant for all of your nostalgic local food spots. The place where you can transport yourself to the time you had schnitzel as a kid in Vienna, or to when you'd stuff your face with etouffee in the streets of Louisiana. This magical American diner style restaurant has it all, loves it all, and celebrates it all. There's no place like Steuben's.
The Place: Steuben's
The Addresses:
-Uptown
523 E. 17th Ave., Denver CO 80203
-Arvada
7355 Ralston Rd., Arvada, CO 80002
The Goods: Classic American style with a modern twist, celebrating your favorite foods from a variety of cultures.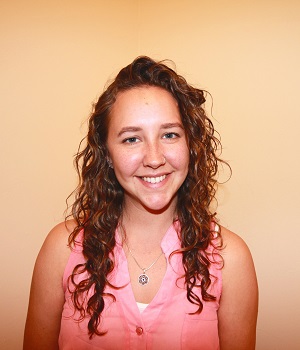 Alicia, a twenty-four year old East coast native, began her writing journey in elementary school with fictional short stories. Her love for writing about foreign people and places continued throughout the rest of her school days, but really began to take off once she graduated college. With a Philosophy degree under her belt, and an aching feeling of wanderlust, she packed up her life and headed off on a solo cross-country road trip. She drove to California where she spent her time blogging her experiences, taking pictures, and exploring the beautiful state by car. After five and a half months, she eventually ended in Colorado where she will continue her love for writing, travel, and grand adventures.