The Unofficial Start of Summer
That's right, folks it's finally here: Memorial Day Weekend. Its summer, baby. Pools, the 88 Drive-In, camping, and backyard barbecue season is finally upon us. And what do all those activities need? You guessed it: beer.
In preparation for your long holiday weekend, I've compiled a shortlist of beers to grab on the go. Liquor stores like Argonaut, Molly's Spirits, Applejack, Lowry's Liquor, and Small Batch Liquor are just a few of the local favorites spots that offer build-your-own six packs, in addition to having fine selections of six packs and cases of local (and other) craft beer. Right now, it's all about the fruit.
Here are some of my favorite early-summer selections:
Dry Dock- Apricot Blonde: One sip and I feel like I'm back on a beach in California, my beach cruiser parked on the sand, chowing down Baja-style tacos on the pier. Crisp and refreshing, with the perfect amount of fruit, this beer is heavily awarded for a reason. I consider it the summer's quintessential apricot blonde and a perfect way to kick off summertime.
Station 26- Juicy Banger IPA and Tangerine Cream: Because I couldn't choose just one. Juicy Banger is one of Denver's all around favorite IPA's and its bright, citrus-forward flavor allows just the right amount of summer into every sip. At just over 7%, it will give you a bang, but not leave you drooling on the potato salad at a family picnic.
Tangerine Cream is strictly for those that don't mind crossing their brain's wires when it comes to two of the best things in life: ice cream and beer. The initial scent of orange creamsicle overpowers the senses, but calms way down in terms of flavor, making this a totally delightful and drinkable cream ale.
Epic- Lil' Brainless Raspberries: Sweet, tart, and not shy with the raspberry puree, this canned version of the popular Brainless Raspberries from Epic is exactly what you'd expect it to be going in. Unlike other raspberry beers, this one is dryer and therefore very drinkable. Especially on a cool morning by a mountain river.
Ska- Modus Mandarina: Another very popular IPA that can be found on tap almost anywhere in town. It's even better out of an ice chest. A classic orange-flavored IPA made special with an almost aggressive mandarin bite that makes the hops vibrant and difficult to put down; so grab more than a few.
Great Divide- Colette Farmhouse Ale: The brewery that arguably put Denver beer on the map also makes some of the most easily attainable beers in the market. Do yourself a favor and grab some Colette; this solid and straightforward farmhouse ale will make you wish you were already lighting fireworks on the fourth of July to the tune of Proud Mary.
O'Dell- Brombeere Blackberry Gose: Technically representing Fort Collins, O'Dell is simply one of the best, so it's no surprise that they pull off a beautiful gose. This German-style sour is a style that has been popping up more and more in recent years and when done right, has a bit more staying power than other sours because of its salty and sweet complexities. The Brombeere is earthy, tangy, jammy and sweet. Think of the perfect way to end a summer evening relaxing on the porch with this tasty treat.
Stem Ciders- Off-Dry: Stem has been on a roll lately with their simple redesigning, rebranding, and success in expanding distribution. The Off-Dry is their newest release and is aptly a little less dry than Stem's flagship Malice—now known as Real-Dry—making it a perfect summer (or all season) staple. If you have never been a fan of ciders but have also never tried Stem, then you need to immediately push your assumptions aside and grab yourself this cider. It is genuine, simple, and absolute perfection.
Declaration- Veiled Vixen Strawberry Wheat: Like them or love them, it is hard to compile a list of kick-off summery, fruity beers without mentioning a strawberry wheat. Declaration's is great because unlike many fruit/wheat combos, this one is not overtly aggressive on the fruit, appealing to all kinds of beer drinkers at your next BBQ.
Diebolt- Wiggy Wiggy Honey Hibiscus Saison: Diebolt loves its Wiggy Wiggy series, and the debut Honey Hibiscus Saison is available canned and ready for consumption at just about any event your sandals take you to this season. It is floral, herbal, and lightly sweetened with honey, giving you tasty version of adult iced tea.
New Image- Dyad Kombucha Brett Saison: I love wild beers, I love saisons, I love kombuchas, so naturally, I just love this beer. As is says right on the can, it is funky, sour, and farmy and they are on point with each of those loud yet well-balanced flavors. Impress a sour-lover (or your hippie sister) with this Arvada brewery favorite.
And last, but certainly not least:
Coors- Extra Gold: This needs no description. Even more classic than the Coors Original Banquet beer, you can grab a 6-pack of this special brew for only $5 at Molly's Spirits.
Once the heat really sets in, we might be reaching for a lighter and more straight-forward refreshing lager (and our trusty Banquets) with the excuse of staying hydrated. For now, enjoy a light breeze and a juicy, fruity, delicious beer while you flip those burgers on the grill.
Have a safe and happy holiday weekend!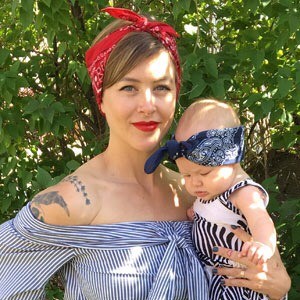 Erica Hoffmeister earned an MFA degree in creative writing and an MA in English from Chapman University of Orange. She has creative work published in the literary journals Shark Reef, Rat's Ass Review, Split Lip Magazine, and others. She has been teaching for over a decade (claiming 8th grade as her favorite grade level because she's an actual crazy person) and currently teaches composition and literature courses for Morgan Community College out of Fort Morgan. Always considering herself a bit of a beer nerd, she met her husband at Our Mutual Friend brewery while on vacation and fell in love with him, Denver, and its beer scene in one fatal swoop. While born and raised in Southern California, don't worry—she's earned her spurs as a transplant by creating her very own Colorado native. As a new mom, she is currently renegotiating her role as a world-traveling, bar-hopping, beer-loving free spirit by taking advantage of Denver's beer culture, where you can find as many babies in breweries on any given afternoon as beers on tap.