The Top Seven Sports of Quarantine
With no professional sports, no collegiate athletics, and the Summer Olympics postponed until next year, the assumption is that sports are gone for now as we sit and wait for it all to return.
But that's not true.
Even with the quarantine limiting our access, and changing life's rules, sport continues on.
Here are the top seven sports of quarantine.
Tik Tok – Once considered a basic social app that just needed a teenager, a trendy song, and a simple 15 second dance routine, Tik Tok is now a major sport in most households. With nothing but time on our hands, Tik Tok now requires 37 takes minimum to make sure that Mom, Dad, and Grandma Ethel all perfect the moves to Savage or Renegade.
The Cleanathlon – If you thought the Pentathlon sounded difficult, try doing non-stop laundry, dishes, floors, while disinfecting and washing hands…all at the same time.
The 112-Meter Dash – Still searching for toilet paper, you bust through the doors at Target and sprint for aisle 13 like you're Usain Bolt with a case of IBS. But the event is not as simple as that, as you adjust your mask, wipe down the cart, and turn your sprint into a fast-but-casual walk in order to not induce panic.  The event was originally called the 100-Meter Dash, but due to the six-foot social distancing rules a straight path to the finish line no longer exists.
Puzzle Yoga – The puzzle has now become a major sport in most households, and after a grueling 1000 piece puzzle the last piece goes missing again. It's possible that it was a manufacturing error, a family member hoarded it to guarantee themselves the title of Puzzle Finisher, or the more obvious answer that a piece simply fell to the ground at some point over the past few weeks.  Like a Yoga Master, you bend and twist your variation of Janu Sirsasana in order to look under that couch, coffee table, or floor to claim victory.
Trick Shot-ing – Or is it trick shooting?   With endless days trapped in the house, you spend hours setting up obstacle courses that involve ping pong balls or golf balls flying downstairs, knocking over dominoes, bouncing off walls, and landing in Solo cups.  Wait!  How about calling it Ball Cupping?  Never mind.  I just heard that out loud.
Competitive Eating – Stuck in the house due to quarantine, Joey Chestnut has nothing on you. For weeks you've done nothing but eat, and yet, there's still a quite a few perishable items such as bananas, avocados, and a questionable piece of meat that need to be devoured or they'll go bad. Most of us panicked and bought too much at first, and according to your Apple Watch your step count is laughable, but you got this.  After all, with the amount of alcohol, chips, and pints of Ben & Jerry's you've been eating over the past few weeks, a little wilted lettuce or discolored mystery meat shouldn't scare you too much.
Social Distancing – Also known as "The King of Sports" in today's quarantined times. The commitment it takes to wait for the UPS driver to walk away after delivering your Amazon Prime item, the agility needed to stop on a dime and quickly change direction when shopping at Whole Foods, the lung capacity it takes to hold your breath while buying an entire shopping cart worth of alcohol at the liquor store, and the quick feet needed to survive a friendly conversation with your neighbor, the "denier" originally from Arkansas.  This is a true athlete.  And in this event, the consequences for finishing in second place can lead to illness, contaminating others, or possibly even death.  Kind of makes Hunger Games look like a Disney flick.
Stay safe.
Images via yogajournal.com, youtube.com, nypost.com, nytimes.com, twentytwowords.com, onenewspage.com, politico.com, somp.com.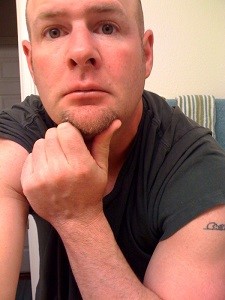 Alan Tapley is an educator, author, and blogger who has lived just outside of Boulder for the last twenty years.  His published work includes two novels, two children's books, a series of cartoons in the Minneapolis Star-Tribune, and multiple sports related articles. His love for family and the state of Colorado is only matched by one thing, his passion for sports.  The first baseball game he ever attended was at Wrigley Field, before there were lights.  At the final Bronco game at the old Mile High, he allegedly cut out a piece of his seat in the South stands.  But regardless of being here for the Avalanche's last Stanley Cup, the Rockies only World Series appearance, and all the Broncos' Super Bowl Victories, his wife never fails to remind him that he wasn't at the University of Colorado in 1990, like she was.  The year the Buffs football team won the National Championship.