The Six Obstacles in Bringing College Football Back
With the country trying to open back up after quarantine restrictions from COVID-19, one of the biggest questions in sports remains whether college football can open along with it.  With current restrictions that include group gatherings of ten or less people, social distancing of six feet, and mask requirements in most public areas, does the college football season have a chance of moving forward?
The answer is yes.  But in the state of Colorado, it will not be easy.  Some obstacles, and some solutions.
Groups of Ten or Less– The first major obstacle starts with the number of players gathering while participating in a college football game. There are generally 125 players on a single college roster, 85 scholarship players, usually 41 players on the offensive unit, 41 on the defensive unit, a kicker, a punter, a long snapper, and plenty of coaches, trainers, and staff as well.  According to a recent study by five epidemic modelers, the magic number is 23.  Meaning, 23 people could gather in one setting and according to the math, eventually the virus would dissipate.  Any more than that, and the transmission period would be too great to handle.  The irony is that football is played with 11 players on offensive, and 11 players on defense.  A total of 22 players in all, or one below the magic number.  A few cones, some caution tape, and a whole lot of game planning, and it is possible.
If the student is not allowed back, the player is not allowed back – The argument says that universities cannot just open up the dorms, facilities, and cafeterias for just football players, but there's a loophole. If the university allows some small labs and face-to-face classes to occur, it opens up the door for a few organic chemistry students, a few microbiology students, as well as 125 football players to live in the dorms, workout in the weight room, eat in the cafeteria, and  attend a class or two (weight training, football 101), while completing the rest online.  Facilities are open, dorm rooms are empty and perfect for athletes and social distancing, while the rest of the students continue their education online, in their parent's basement.
The schedule and travel are problematic – The reality is that travelling on planes, and potentially playing in COVID-19 hotspots, are major issues. Schedule changes are needed.  I propose that the Colorado Buffaloes ditch the Pac 12 and adjust the upcoming season to invite universities just a bus ride away.  CSU, Air Force, Nebraska, Boise State, and Wyoming; divide the team up in social distance acceptable busses, hotel rooms, and daytrip-it if necessary.  You may even want to invite the University of Wisconsin to join the conference.  That way, if plan A falls through, you can just drive to Badger Country, where there are apparently no COVID-19 rules whatsoever.
Revenue and College Budgets – Most universities are panicking that budgets will be cut substantially in order to make up for lost revenue, but I do not see it that way. With Michael Jordan and The Last Dance now over and nothing on tv, college football would clean up on television contracts, gambling websites, and sponsorships from companies like Cottonelle, Clorox Wipes, and Grubhub.
Protective Masks – College football already institutes a protective mask (and helmet) policy for all players. It would be easy to sew a little cloth onto the face guard or paint the face mask surgical blue.  It's not perfect, but neither is the version your grandmother made you out of vintage stained sheets and pipe cleaners.
Fans – The safest idea is to not have any this season, and the NFL version proposes social distancing with stadiums at 25% compacity with separate entrances, but I have another idea. Games are attended by conspiracy theorists, COVID-19 doubters, and the non-mask wearing community.  They sit in the upper level drinking beer (or disinfectants) while cheering away.  If they are right and stay safe, the rest of us owe them an apology while they do the wave and make faces on the jumbotron.  If they are wrong, a valuable life lesson is learned.
Next week's article – How to properly tackle while practicing social distancing.
Images via cbsports.com, indyweek.com, nfltshirtsstore.com, livetradingnews.com, twitter, npr.com, cvs.com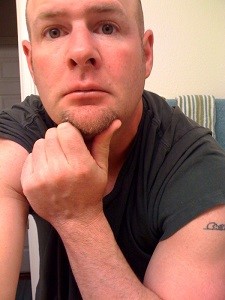 Alan Tapley is an educator, author, and blogger who has lived just outside of Boulder for the last twenty years.  His published work includes two novels, two children's books, a series of cartoons in the Minneapolis Star-Tribune, and multiple sports related articles. His love for family and the state of Colorado is only matched by one thing, his passion for sports.  The first baseball game he ever attended was at Wrigley Field, before there were lights.  At the final Bronco game at the old Mile High, he allegedly cut out a piece of his seat in the South stands.  But regardless of being here for the Avalanche's last Stanley Cup, the Rockies only World Series appearance, and all the Broncos' Super Bowl Victories, his wife never fails to remind him that he wasn't at the University of Colorado in 1990, like she was.  The year the Buffs football team won the National Championship.